A Deer Chase In Periyar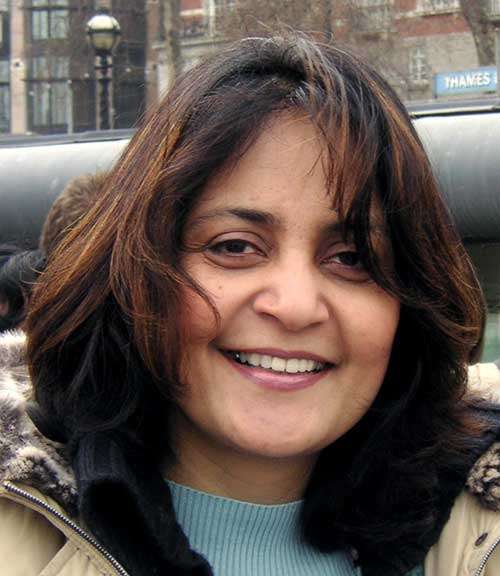 As a malayali married to a UP-wallah, it is my bounden duty on a regular basis to accompany North indian friends and relatives down to Kerala so they can enjoy the verdant beauty of my state. Most people come for the beaches and sleepy backwater cruises but, when a cousin decided to come with his two teen aged daughters, we decided — after the obligatory jaunts to Varkala, Kovalam and Kanyakumari — that the girls might like something more adventurous. With a few days to spare, we hired a jeep and drove through Idukki district's lush green hills and tea plantations to the wildlife reserve of Thekkady in search of wild elephants and those all-too-elusive tigers.
Dusk was falling as we arrived and we found an anxious boatman awaiting us at the jetty. We had been booked to stay at the Kerala Tourism guesthouse which is located on an island deep into Periyar lake and it was this poor man's unenviable task to steer us through the darkened waters which — as anyone who has been there knows — is pierced by hundreds of tree stumps, remnants of the forest that was flooded when Mullaperiyar dam was built in 1895.
The boat navigated a careful path through the tree stumps, occasionally spluttering to a halt and backtracking to avoid the odd stake hidden under deep black water. They stood there, hundreds of half – submerged sentinels, seeming to watch our slow progress with a kind of menace. Our party, who had spent the entire journey so far raucously singing and playing antaakshari, grew silent as the potential dangers of traversing such treacherous waters in the dark of the night occurred to all.
However, the mood perked up again as we arrived on the shores of the island and found a beautifully appointed guesthouse awaiting us, emblazoned with light. The resident cook had also prepared a welcome banquet of chicken curry and fried fish with rice and it wasn't long before high spirits were restored.
There was further excitement the following morning as i awoke to the voices of our nieces yelling from the garden to wake up and come outside. We stumbled out, rubbing sleep from our eyes, to witness what travellers to wildlife sanctuaries dream of being able to witness — a chase.
For there, on the opposite bank, a deer was in full flight from a herd of wild boar. it was dramatic and distressing to watch nature's seeming cruelty at work when, in a matter of seconds, the poor deer stumbled and was instantly downed by the fastest of her pursuers. Soon the rest of the herd moved in for the kill and, like a movie clip lacking a soundtrack, we watched in horror as the upturned legs of the deer gradually stopped kicking and were stilled.
The boar feasted on their prey well into the hottest part of the noon and, from the safety of our island garden, we watched as, through the day, subsequent rounds of predators and carrion moved in: wild dogs and vultures and crows.
Only much later, at sundown, another creature emerged from the edge of the forest. Tentative, apprehensive, frightened and clearly lurking within the safety of the forest until it had seemed safe to come out. She must have been the mate of the deer that had died for she stood, as though in mourning, over the now-ravaged carcass while the sun dipped behind the mountains and darkness gathered once again over the golden lake. Even when it was very late, and we were contemplating turning in, she was still there, now barely visible against the shadows. We could only just discern her by the glimmer of her eyes whenever they caught a bit of moonlight and couldn't help wondering if perhaps they were tears.
MUST DO
Attend a Kathakali or a Mohiniyattam dance performance in the state from where these dance forms originated. Kerala Kathakali Centre, Cochin (www.kathakalicentre.com) is a popular theatre.
Eat along with locals at Sagara restaurant (Vazhuthucaud Junction, Trivandrum)—that's if you like all manner of fish. Tel: (0471) 233 3434.
Though beaches of the state like Kovalam and Varkala are a delight, make sure you don't miss seeing the unspoilt forested mountains of Wayanad.
GOOD TO KNOW
Cruise on the backwaters: A quintessential experience in God's own country is to hire a houseboat and take a cruise on the backwaters of Alappuzha, Kuttanad and Vembanad. Many of the cruises start at Alleppey and go to Kumarakom, Thottappally and Alumkadavu.
Explore Kerala Cuisine: Kerala cuisine is characterized by the use of coconut. Seafood is very popular with Karimeen or fried fish being a favourite. Must try while in the state is the sadya, a traditional vegetarian meal served on banana leaf and also chicken thoran, a spicy chicken preparation and Malabar prawns curry.
Get high on toddy: Made from the sap of the palm tree, toddy is the popular local liquor best had with meen curry (fish).
Author Jaishree Misra has written seven novels, the most recent being A Scandalous Secret. She has edited a book on motherhood which hits the stands this month. She completed her Master's in English Literature from Kerala University and two post-graduate diplomas from the University of London. With her husband, daughter and mother living in three different places, she now shuttles between Delhi, London and Kerala and tries with difficulty not to have any favorites. Apart from being an author, she also fulfils the duty of accompanying friends and family visiting her home state.
Most people come for the beaches and sleepy backwater cruises but, when a cousin decided to come with his two teenage daughters, we decided that the girls might like something more adventurous. We drove through the Idukki district's green hills to the wildlife reserve of  Thekkady.