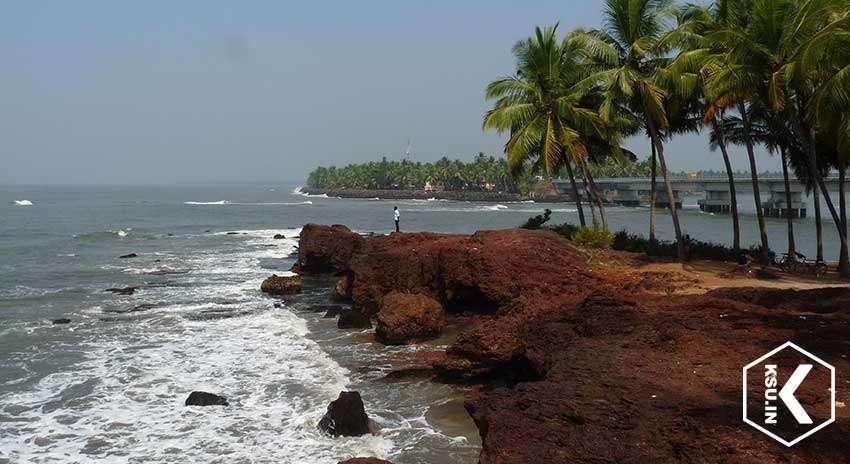 Enchanting Estuaries of Kasaragod – Kasaragod the northernmost district of Kerala on the shores of the Arabian Sea, was once the gateway to the Malabar Coast.
It is a land blessed with a chain of forts, network of rivers and pristine beaches. Flanked by the Western Ghats on the east and the Arabian Sea on the west, it is a treasure of diversity in landscapes. A land of dozen rivers, the district is blessed with a large number of estuaries. The rivers criss-cross the district, nourishing the verdant landscape and networking it with shimmering waterways. The district has an array of famous tourist centers including famed Bekal Beach and Fort.
Manjeswaram
Estuaries are sensitive ecosystem formed as a result of merging of a river or lake with the sea. River Manjeswaram, the smallest in the State, joins the Arabian Sea at Manjeswaram estuary between Bengara and Manjeswaram. Once a thriving port town, it is a confluence of many cultures and people. At the mouth of the river, one can behold the ruins of an ancient dismantled stone temple which is now a small fish landing centre. The Manjeswaram estuary is rich with diverse aquatic and avian life. It is home to hordes of beautiful and rare bird species.
Kumbala

Kumbala is a coastal town standing on a peninsula in a lagoon separated from the sea by a sand spit and connected to it by a narrow channel. Kumbala estuary is bordered by mangrove islets and sandy shingles. The river Shiriya and a few other rivers join together to form the Kumbala estuary which is situated 10 kms north of Kasaragod. The estuary is home to a wide range of diverse flora and attracts a lot of migrant and resident birds, fish and crustaceans and a centre of hectic activity for local fisher folks. Kumbala estuary offers ideal habitat for open bill stroks perched on the mangroves close to the highway. At the estuary and near the river mouth one can see flocks of seagulls, including black brown headed seagulls, lesser crested terns and Eurasian curlews.
Mogral Puthur

Mogral Puthur estuary, a few kilometers south of Kumbala, is a small patch of mangroves which is home to little herons, little cormorants and pond herons.
Thalangara

Thalangara Estuary formed by the river Chandragiri towards the South west of the ancient mosque Malik Dinar-is a cultural landmark of Kasaragod. Thalankara is equally famed for its heritage craft product such as Thalankara Thoppi (caps).