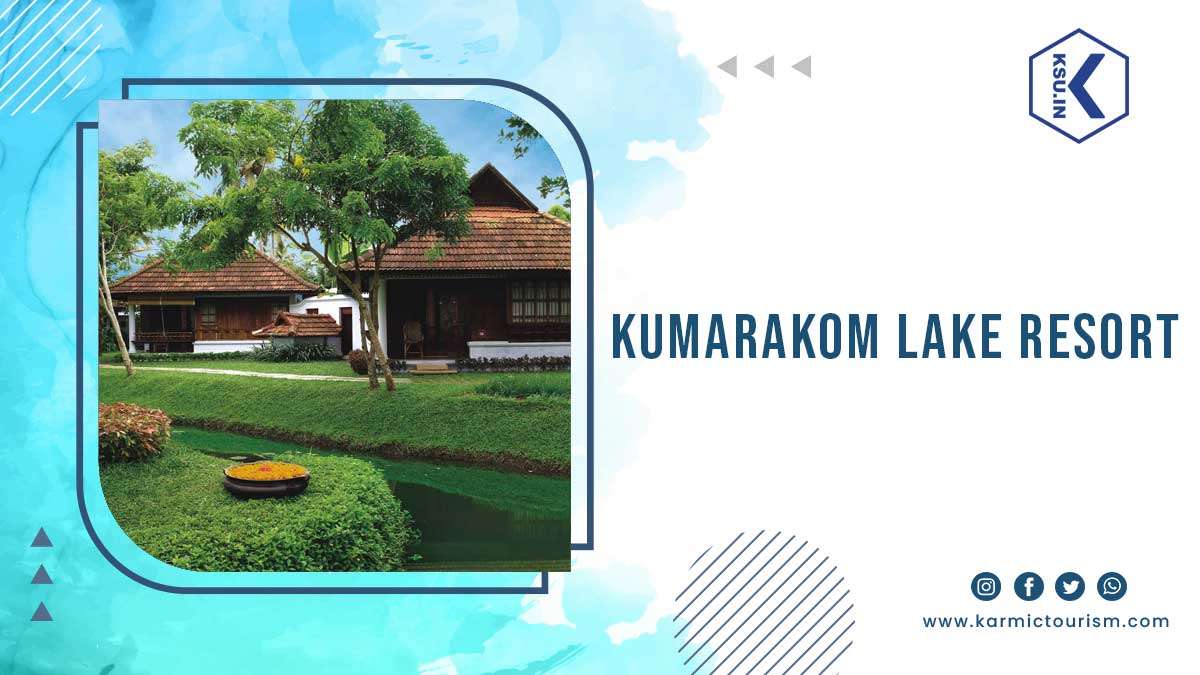 The epitome of opulent lodging in Kumarakom is embodied by this 67-room marvel, drawing inspiration from the rich heritage of Kerala and situated along the shores of Vembanad Lake. This luxurious haven boasts an ayurvedic spa, yoga facilities, two exquisite restaurants, private houseboats, and enchanting tropical gardens. Many rooms provide access to interconnected palm-fringed pools, while others feature private plunge pools. Even the standard accommodations exude spaciousness, style, and blissful comfort, complemented by indulgent hot tubs in the bathrooms.
For an extravagant experience, consider indulging in one of the two presidential suites, each featuring infinity pools that offer breathtaking views of the lake. Notably, these suites hosted the UK's Prince Charles in 2013.
Kumarakom Lake Resort, renowned as one of the premier destinations in Kumarakom, is a favored choice for travelers seeking an Indian holiday experience. The resort presents a range of exclusive Kerala holiday packages, tailor-made options for honeymooners in Kerala, and a multitude of offerings. With numerous accolades to its name, Kumarakom Lake Resort stands as a luxury heritage retreat nestled amidst the famed backwaters of Kerala, featuring opulent heritage villas, rooms, and traditionally styled Kerala houseboats. Its seamless fusion of modern comforts with traditional architectural elegance ensures the crafting of truly unforgettable moments for guests.

Situated in Kumarakom Kerala's Kottayam district, Kumarakom Lake Resort presents a diverse range of outdoor and aquatic activities for your enjoyment. The resort boasts multiple swimming pools, an Ayurvedic spa, and a choice of three dining establishments.
Nestled amidst expansive gardens and inviting swimming pools, the accommodations showcase wooden ceilings and tasteful Asian-style decor. Every air-conditioned room is equipped with cable TV, a secure safety deposit box, as well as tea and coffee-making facilities.
The resort offers a variety of water sports, such as water skiing and thrilling banana boats or speedboat rides. Additionally, the staff is available to organize activities like sunset cruises, guided village walks, and visits to the Kumarakom Bird Sanctuary. For your convenience, the resort features a 24-hour reception and a fully-equipped business center.
Ettukettu restaurant caters to a diverse palate with a selection of local, Chinese, and continental cuisine. Nestled by the serene backwaters, Vembanad Seafood Bar tempts guests with the freshest seafood and breathtaking sunset vistas. For a tranquil tea experience, guests can savor a cup of tea amidst the garden setting at Thattukada Tea Shop.
Kumarakom Lake Resort is situated at a distance of 72 kilometers from Cochin International Airport.
Discover the renowned Kumarakom Bird Sanctuary, conveniently located just 2.2 kilometers from the resort.
Obtain Comprehensive Information Regarding Your Stay At Kumarakom Lake Resort
Perched along the shores of Lake Vembanad, this regal residence presents serene vistas and an opulent sojourn.
Take a refreshing plunge in the infinity pool or indulge in rejuvenating treatments at the Ayurveda wellness center at Kumarakom Lake Resort.
Discover the renowned Kumarakom Bird Sanctuary, conveniently located just 2.2 kilometers from the resort.
Enjoy engaging in entertaining pursuits such as boating, crafting pottery, cycling, and exploring village tours.
Savor a variety of delectable dishes and authentic seafood offerings at the on-site dining establishments within Kumarakom Lake Resort.
Top Amenities At Kumarakom Lake Resort
Infinity Swimming Pool
The spacious and serene pool at Kumarakom Lake Resort creates a striking illusion of seamlessly merging with the glistening lake. Whether it's the invigorating mornings or the refreshing breezy evenings, the poolside provides an ideal retreat for rejuvenating weary bodies after a busy day of leisure.
Fitness Centre
At Kumarakom Lake Resort, you can engage in guided workouts led by expert instructors. Our Fitness Centre is equipped with a comprehensive selection of state-of-the-art fitness equipment from renowned brands and more.
Fun Activities
While staying at the resort, guests have the opportunity to experience activities such as fishing, pottery, and weaving. So go ahead, and choose your preferred option!
Vembanad – Coastal Cuisine Specialty Restaurant
Explore a diverse selection of unique coastal options, including specialties from Coorg and Kerala. Indulge in an unforgettable and exotic culinary adventure.
Kumarakom Lake Resort Room Types
Presidential Suites
The Presidential Suites, nestled in their own regal seclusion, epitomize traditional architectural charm, luxury, and the epitome of self-indulgence. Offering a private lake view, a personal pool, an exclusive courtyard, and opulent interiors that radiate the grandeur of a bygone prosperous era, allow yourself to escape and savor their exotic magnificence.
Heritage Lake View Villas With Private Pool
Crafted in the traditional homestead style of Kerala, these villas at Kumarakom Lake Resort come complete with a private courtyard and a plunge pool featuring a Jacuzzi. They provide a sweeping vista of the radiant Vembanad Lake, promising an exceptional holiday experience.
Heritage Villas With Private Pool
At Kumarakom Lake Resort, these villas provide opulent and unique amenities. Each luxurious villa, designed in the traditional Kerala homestead style, features a private courtyard with a personal pool and Jacuzzi, guaranteeing the formation of unforgettable memories. Furthermore, the villas offer a breathtaking outlook over meticulously landscaped gardens and pristine, lotus-adorned canals.
Meandering Pool Duplex Villas
Kumarakom Lake Resort elevates the exotic experience with its distinctive meandering pool villas. Extending for 250 meters, this sinuous pool gracefully winds its way through the eastern section of the resort, surrounded by opulent, traditional villas. Each villa boasts a private alcove that seamlessly connects to the pool, offering a luxurious escape.
For the pinnacle of luxury, the meandering pool duplex villas take extravagance to new heights. These two-story villas are situated along the meandering pool's edge, offering breathtaking views of lush greenery and glistening waters from their sumptuous living rooms to the cozy upper-level bedrooms.
Meandering Pool Villas
Nestled alongside the sinuous path of a 250-meter-long meandering pool, the Meandering Pool Villas at Kumarakom Lake Resort seamlessly blend traditional aesthetics with luxurious modernity. Each villa offers exclusive access to the pool through private bathing coves and intimate outdoor sitting areas.
Luxury Pavilion Rooms
These rooms offer a traditional design with a touch of opulent comfort, situated within the serene greenery of the retreat. Each room boasts spacious dimensions and a welcoming, cozy atmosphere. They exemplify the resort's commitment to heritage aesthetics and understated luxury, much like the rest of Kumarakom Lake Resort. The addition of an ensuite bathroom and a Jacuzzi only enhances the unforgettable experience of staying here.
Kumarakom Lake Resort Houseboats
Immerse yourself in pure serenity as you glide on the tranquil waters of Lake Vembanad aboard Kerala's traditional kettuvalloms, or houseboats. These vessels exude authentic charm while being furnished with all the modern comforts and amenities you could desire. Revel in the chance to stay, dine, and fully embrace the timeless allure of life along the picturesque banks of Kerala.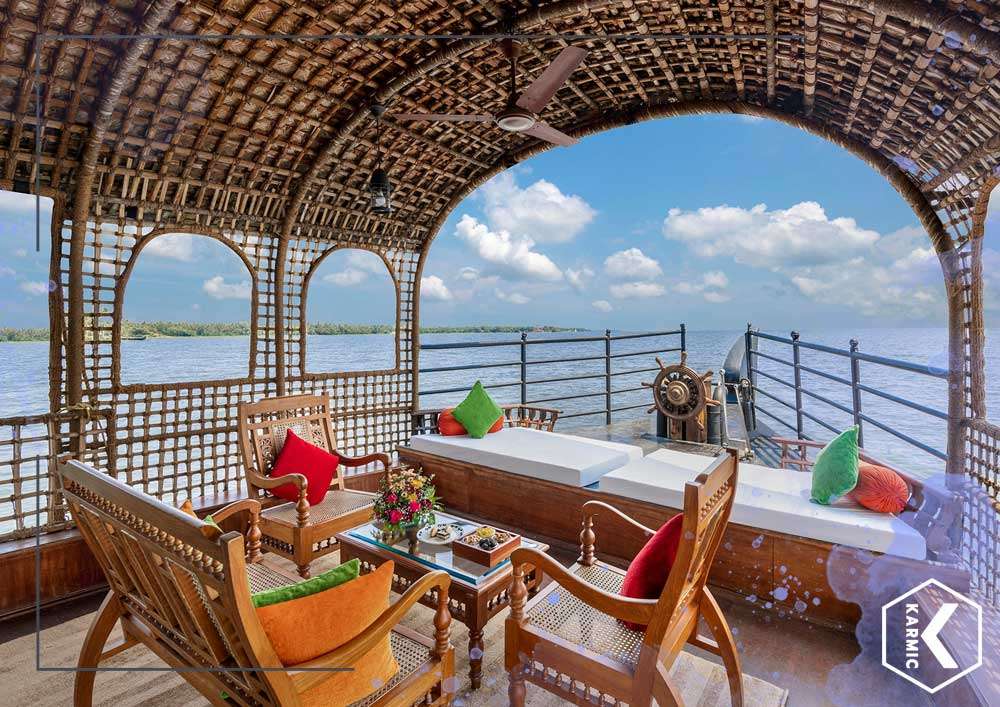 Kumarakom Lake Resort, Kumarakom North Post, Kottayam, Kerala, India, 686 563.
Email : reservationklr@thepaul.in
Phone : +91 481 2524900