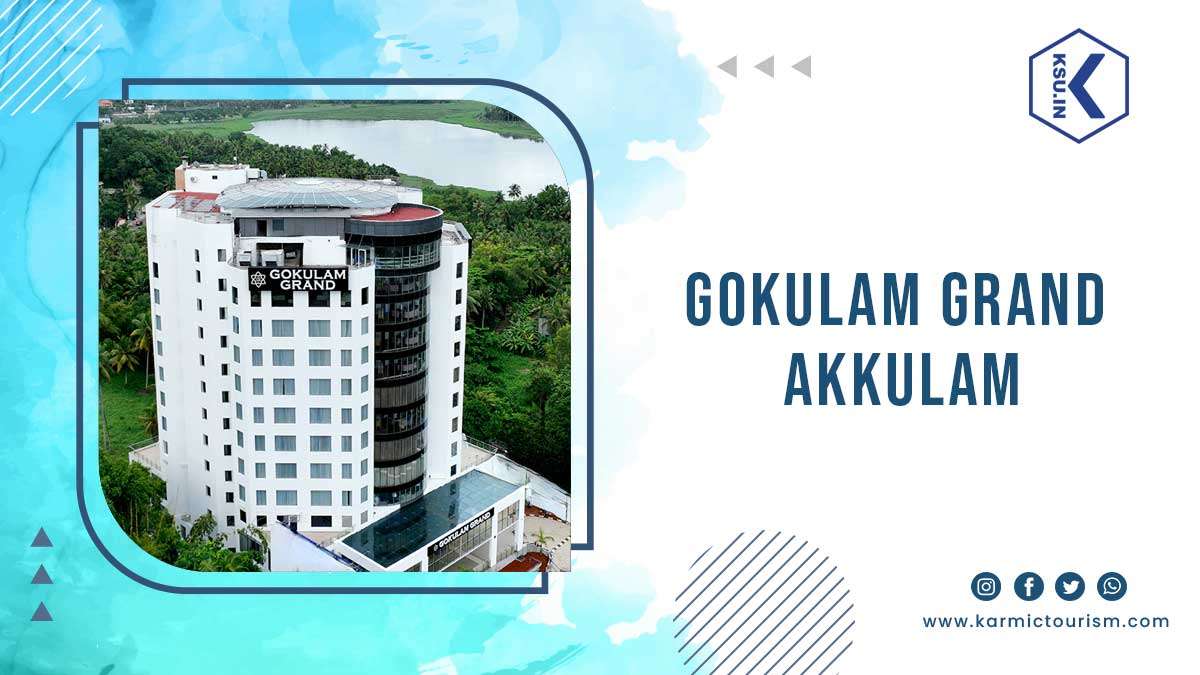 Situated next to Trivandrum's Technopark and conveniently near the international airport, Gokulam Grand Hotel Akkulam stands as a top-tier business-class hotel. It pampers its guests with lavish opulence and state-of-the-art facilities, making it an ideal choice for both business and leisure travelers. This strategically located hotel places you within easy reach of the city's bustling commercial and shopping areas, and it provides effortless connectivity to both domestic and international airports, along with the Kochuveli railway station. Additionally, Gokulam Grand offers captivating vistas of the nearby Akkulam Lake.
The Gokulam Grand Hotel Akkulam stands as a luxurious 5-star retreat, nestled within the enchanting landscapes of Akkulam, Kerala, India. Situated on the peaceful shores of Akkulam Lake, it offers guests captivating panoramas of the serene waters and the verdant hills that embrace the area. With an abundant inventory of 150 spacious and tastefully appointed rooms and suites, the hotel ensures a sumptuous stay for all its visitors. Going beyond its lavish accommodations, the hotel features an array of top-tier amenities, including a glistening swimming pool, a fully equipped fitness center, a rejuvenating spa, and a diverse array of fine dining options and chic bars.
Nestled close to a variety of popular tourist spots, Gokulam Grand Hotel Akkulam provides easy reach to attractions like Akkulam Palace, Akkulam Bird Sanctuary, and the famous Kovalam Beach. Moreover, it is conveniently located just a brief drive from Trivandrum International Airport, ensuring hassle-free accessibility.
Gokulam Grand Hotel Akkulam is a preferred choice for both business and leisure travelers, offering an excellent setting to relax and savor the wonders of Kerala.
Here Are The Prominent Features And Amenities Provided At Gokulam Grand Hotel Akkulam:
A selection of 150 tastefully furnished rooms and suites
An alluring swimming pool
A well-equipped fitness center
A tranquil spa for relaxation
A variety of dining choices and elegant bars
A convenient location near renowned tourist destinations
Swift access to Trivandrum International Airport
Gokulam Grand Hotel Akkulam Room Types
DELUXE ROOMS
The Deluxe Rooms feature luxurious bedding, comfortable furnishings, and a decor palette of calming white and light brown tones. Rich curtains adorn the generous windows, and gentle lighting creates a tranquil ambiance, guaranteeing a peaceful and comfortable experience for our guests. Furthermore, our Deluxe Rooms come equipped with all the essential industry-standard amenities.
DELUXE LAKE VIEW ROOMS
The deluxe lake view rooms boast generous windows that provide breathtaking vistas of Akkulam Lake in the west and a glimpse of the distant ocean on the horizon. In addition to these stunning views, these rooms offer the same high-quality aesthetic and functional amenities as our Deluxe Rooms, including sumptuous beds, stylish and practical furnishings, soft fabrics in a serene white and earthy brown color scheme, and top-notch modern amenities.
EXECUTIVE ROOMS
The hotel's commitment to both aesthetic and functional excellence also extends to our Executive Rooms. These rooms are appointed with luxurious beds and furnishings adorned with gentle fabrics in calming shades of white and brown, ensuring a tranquil ambiance. Furthermore, the Executive Rooms are equipped with all the necessary industry-standard amenities.
EXECUTIVE LAKE VIEW
Situated on the upper floors, the Executive Lake View Rooms provide enchanting vistas of Akkulam Lake, the surrounding landscapes, and cityscapes. These rooms also boast the same aesthetic elegance and practical amenities found in our Deluxe Lake View Rooms, including opulent beds, tasteful and functional furnishings, soothing white and light brown fabrics, and cutting-edge modern amenities.
GRAND SUITE
The Grand Suite epitomizes comfort, elegance, and luxury with its opulent and lavish design. This spacious suite includes a carpeted living room, a dining area, and a double bedroom, all equipped with top-of-the-line amenities. It is the perfect choice for business travelers and leisure guests who consider luxury a fundamental aspect of their stay.
Gokulam Grand Hotel, Chakkai Junction, Kuzhivila, Kazhakootam – Kovalam Bypass Road, Karimanal, Thiruvananthapuram
Phone : +91 471-3509900 / +91 9778800360
Email : rsv.tvm@gokulamhotels.com