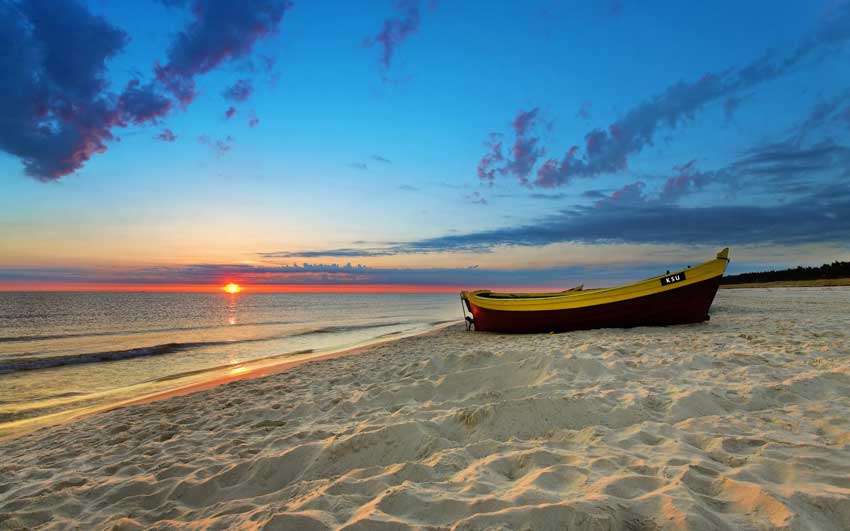 Cherai Beach is one of the fabulous beaches in Kerala located nearly 30 kilometers away from the vibrant city of Kochi. Nestled on the north end of Vypeen Island, this immaculate beach is the right blend of the backwaters and the sea. Green groves and paddy fields enhance the beauty of this picturesque beach in Kerala. Dotted with seashells of different colors and shapes, Cherai Beach has a coastline of 15 kilometers. In fact, its vast coastline makes it different from other beaches in the state. Sunbathing and swimming are two popular activities that can enjoy at this spot. Cherai Beach is an ideal picnic spot for people who wish to get away from the hustle and bustle of city life.
Cherai Beach is one of the scintillating beaches in Kerala. It situates about 30 km away from the metro city of Cochin. The best part of Cherai Beach is that it is explored by very few tourists, which makes it the best choice for a lazy holiday. Cherai Beach is situated on Vypin Island and it has a seashore of the length of about 10 kilometers. The serenity and the freshness of the Cherai beach make it the most sought out place for swimming and bathing. One of the greatest attractions of Cherai Beach is that, even though rarely, we can see dolphins here. This makes it one of the best beaches in the whole of Kerala.
Cherai Beach offers resorts with great amenities in the nearby area. The well-known Azheekal Sree Varaha Temple is near Cherai Beach.
Cherai beach can be approached during day and night and the area is very well illuminated. Kerala is known for its marvelous backwaters and this signature scenery of Kerala lies on either side of the Cherai beach. This quality will make Cherai highlighted among the beaches in Kerala.
The beach is adorned with coconut trees -the landmark of Kerala, backwaters – the signature scenery of Kerala, and the clean atmosphere – all these make Cherai the best beach of Kerala. Cherai is not crowded by many people. You can venture out for a canoe ride in Cherai. The cuisine of Kerala famous for its seafood is also one of the tempting reasons for visiting the Cherai beach.
Princess Of The Arabian Sea
Flaunted as one of the popular beaches in Kerala, Cherai Beach is a must-visit tourist spot in Kochi. The thick coconut groves and Chinese Fishing Nets on the waterfront add charm to this beach. It is a favorite place for both locals and tourists and they love to spend time on its sandy shores. Fondly known as the 'Princess of the Arabian Sea', this beach is ideal to relax with panoramic views and a charming beachfront. This beach gets a pleasurable appearance during the night because of the high mask lamps placed along the walkway edges.
Ideal For Families
In addition to the vast coastline and panoramic beachfront, Cherai Beach also has a children's park where you can spend time with your family and children. Water-scooter and speedboats are available on rent here and you can enjoy a ride at the beach. Since there are a number of hotels and resorts available around this destination, lodging is not a problem for travelers. It is easy to find a hotel that provides accommodation at a reasonable cost. Cherai Beach is heaven for people who wish to spend quality time with their loved ones. Visit this spot if you look for a memorable beach holiday experience during your trip to Kochi.
Things To Do
Just like Cherai Beach, its northern end also fascinates travelers. People love to visit this area because of its close proximity to the backwaters. Backwaters are very close to the ocean in this place and it is separated from each other only by a long sandy stretch of land. The 15-kilometer Cherai Beach is very clean and ideal to enjoy different water-related activities. You will love to enjoy swimming, surfing, and sunbathing at this beach.
Cherai Beach is also a favorite spot for many adventure lovers because of the different water sports offered by it. This is an ideal destination for them to enjoy speedboats, water scooters, canoe rides,s and snorkeling. People who are not-so-interested in such adventure activities can opt for viewing dolphins that frolicked in the sea. Locals love to enjoy kite flying and they celebrate a kite flying festival annually with great enthusiasm.
Explore The Villages
Hire a bicycle in order to explore the beautiful villages in this place. Bicycling is the best way to enjoy the scenic charm of nature and explore the local life. Hiring a bike for rent is reasonable at this beach. Each traveler can enjoy a refreshing experience by opting for a bicycling tour through the villages of Kochi. Log on to www.KSU.in to get more information about Cherai and the nearest tourist attractions.
Cherai Beach – Location, Pictures, How To Reach, Entry Details