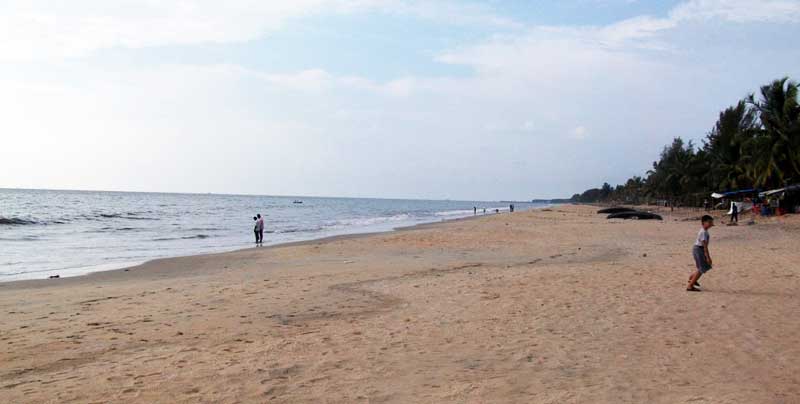 Cherai, a small unique village where you can enjoy both the benefits of beach and backwaters located on the northern end of Vypin Island is just 25 KM from Kochi Kerala.

Like seashore Sauter !!!!!!!!…………. Experience a stroll along the white-sand beach fondled by cold crystalline seawater.

Cherai, a small village located on the northern end of Vypin Island is just 25 KM from Kochi, Kerala. A unique place where you can enjoy both the benefits of the beach and the backwaters. This picnic spot stretches for about 10 kilometers. Since the sea is calm in this area, swimming, and sea bath is quite encouraging. The shallow water makes the place friendly also. Enjoy sea swimming to boost your immune system and reduce skin complaints, aches, and pain. Wander along the beachside and enjoy the gentle breeze.

Cherai Beach is a host of options for you to explore. Reach out beyond the boundaries of photography and take stunning pictures of gleaming sunsets. Go for a morning walk and enjoy a scenic view. A rich, colorful, and breathtaking image of sunset is the greatest attraction of Cherai Beach.

Activities at Cherai include beach volleyball too. You can have the opportunity of viewing a rare dolphin dance here. Enjoy a walk along the seashore at sunset in the backwaters. Beach benches and beach umbrellas are also facilitated here. Beach walkways are well illuminated easing night walking along sea shore. Enjoy the natural beauty of backwaters in peddled boats.

Cherai is the best place for family picnics; calm and also quiet walk alongside honeymoon couples. Here you can avail resorts and hotels with all modern amenities. Enjoy delicious sea foods in beach resorts. Local dishes include karimeen pollichathu, crab, and prawn fry.

The unique beauty of Cherai is the view of the lake, backwater, and sea at a glance. The beach is bestowed with a backwater on one side and a lake on the other side. The way to the beach is blanketed with coconut trees. Experience a ride through coconut gardens and enjoy the natural beauty of Kerala.

Cherai Tourism with local support provides you with all facilities for a happy trip. Enjoy the scenic beauty of the sea and backwaters at the same time.

Attractions Near Cherai
Azheekkal Sree Varaha Venkateswara Temple – Better known as "Sampoornakshetra" in South India. The only of its kind is constructed in AD 1869. Chariot running on rail is another attraction of this Sampoornakshetra.

Children's Park – Speed boats and water scooters are the main attractions here.
South Paravoor Mookambi Temple – The sanctum sanctorum is seen put up amidst a green lush pond with lotus in it.

Varappuzha Karmalamatha Church – Prime Church of other Churches

To Reach Cherai
By Air: 28 km from Kochi International Airport.
By Train: 20 Km from Ernakulam Town station
By Road: 20 km from Ernakulam to Cherai through Varappuzha
By Water: Boat service is available every 15 minutes from Fort Kochi, Vypeen, and Ernakulam Jetty to Cherai.
Cherai – Location, Pictures, How To Reach, Entry Details