Luxury Traveller / Van Rental Providers in Kerala. Get a best deals on Luxury Traveller and Van booking in Kerala.
Karmic Tourism Luxury Van / Traveller are designed for convenience and generous space as well as providing safety, ergonomic design and exceptional flexibility for long or short excursions for groups of up to 10 passengers and luggage..
Seats 10 People
Comfortable Individual Seats With Retractable Seat Belts
Upscale Van With Hardwood Floors
Ambient Lighting
Air Conditioned
AC Power And USB Outlets For Each Seats
Backup Live Camera`s
High Top Roof
Large View Windows
Personalised AC Vents
2 Ton Air Conditioner To Stay Cool On The Move
LED Televisions With Full Surround Sound Entertainment
On Board Wi-Fi
Multiple Seat Adjustment Options
Ample Legroom
1×1 Configuration Seat Layout For Wider Alley
There are lots of reasons to choose luxury van rental from Karmic Tourism. Our vehicles allow you to take advantage of copious amounts of legroom and luggage space and provide the convenience and flexibility that far larger cars cannot offer.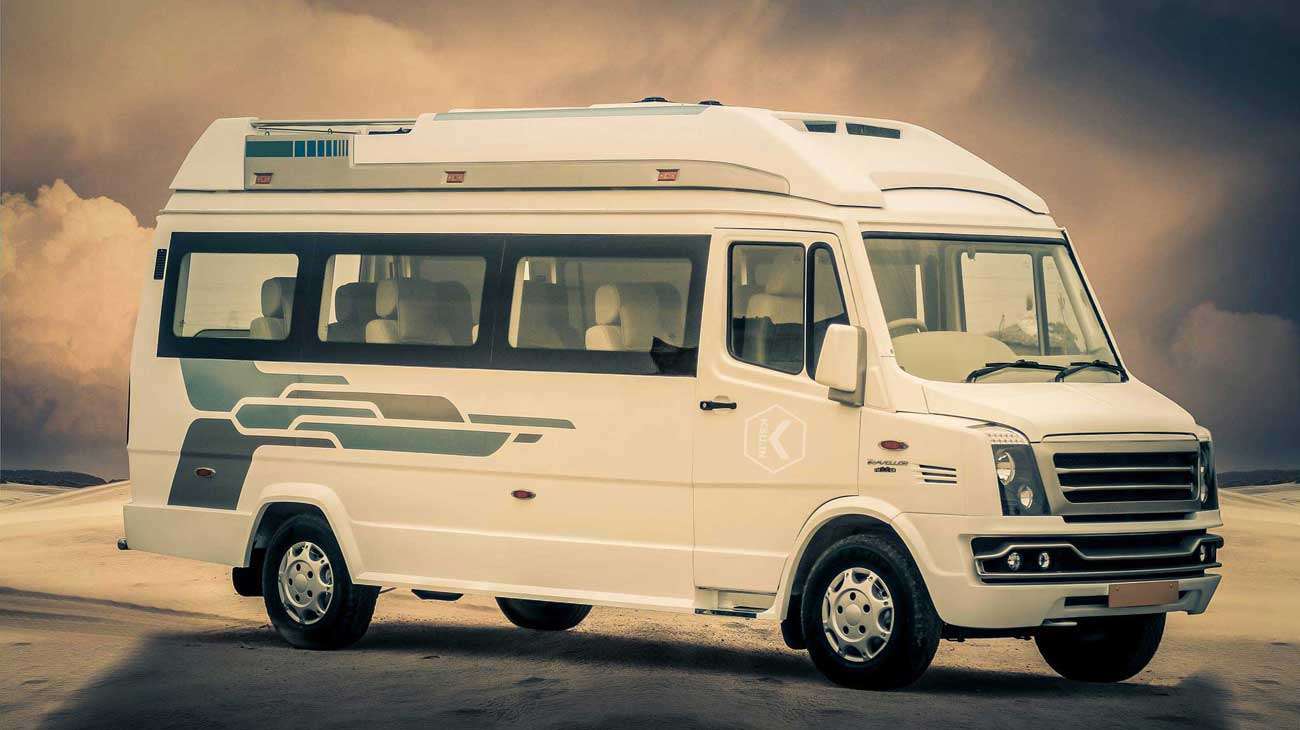 MAKE A QUICK ENQUIRY TO TEAM KARMIC
We are here to help you plan something special and memorable. If you want to ask us something, you go ahead and we will get back to you ASAP.

First Class Passenger Vehicle Rental Kochi for Family Vacations, Business And Group Outings In Kerala
Travelling by Traveller / Van is always an unique experience, especially when it is a luxury Traveller. Chartering a luxury van on rent is emerging as a popular trend for family vacations and corporate events to reach their destination.
Rent a luxury van for comfortable travel in Kochi, Kerala and enjoy more leg room, storage space and flexibility during your upcoming trip.
Our Luxury Van / Traveller is equipped with a speed limiter, an anti-lock braking system (ABS) and a GPS tracking device, enabling KSU head office to determine the exact location of each traveller.
Highly trained and experienced Kochi Taxi chauffeurs will be assigned for long trips guaranteeing your safety, comfort and uninterrupted travel.
No matter where you are planning for short weekend trip or long holiday plan to distant locations, local sightseeing or many days travel programmes with halts at various destinations, our van rentals and car on rent services will suits you best.
Are you looking for Luxury Traveller In Kerala, Contact KSU @ 98460 89546 Or mail@ksu.in.
Luxury Traveller / Van Rental Providers in Kerala. Get a best deals on Luxury Traveller and Van booking in Kerala.