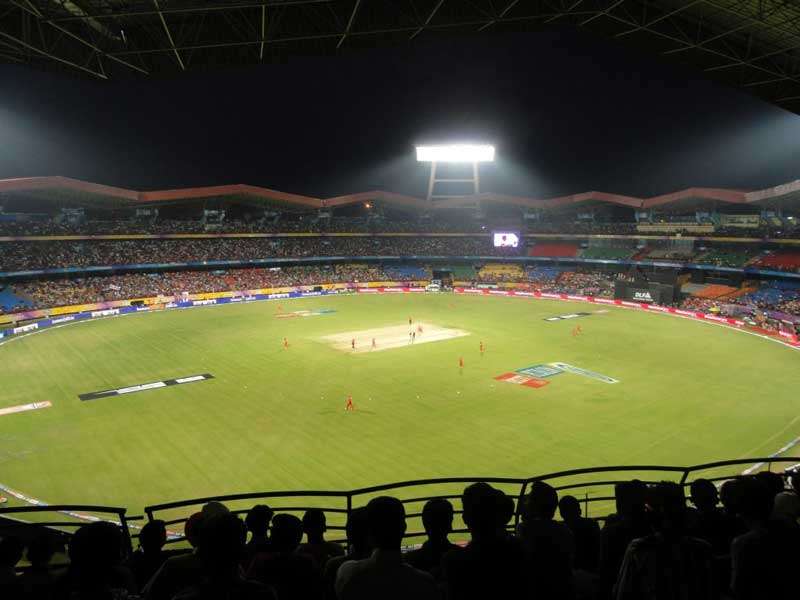 The Jawaharlal Nehru Stadium in Kochi, Kerala, India, is a multipurpose stadium primarily used for hosting sports events and concerts. It is one of the largest stadiums in Kerala and has a seating capacity of around 39,000 spectators. The stadium is named after India's first Prime Minister, Jawaharlal Nehru, and is commonly referred to as the Kaloor International Stadium due to its location in the Kaloor neighborhood of Kochi.
Key features and uses of the Jawaharlal Nehru Stadium in Kochi include:
Football Matches: The stadium is well-known for hosting football matches, both domestic and international. It has been a significant venue for football events, including matches of the Indian Super League (ISL) and other football tournaments.
Athletics Events: Apart from football, the stadium also hosts various athletics events and track and field competitions. It has facilities suitable for running events, jumping, and throwing disciplines.
Concerts and Cultural Events: The Jawaharlal Nehru Stadium occasionally hosts concerts and cultural events, drawing large crowds for music performances and entertainment shows.
Sports Training: The stadium is used as a training venue for athletes and sports teams, providing them with modern facilities and ample space for practice.
Other Events: The stadium's vast capacity makes it suitable for hosting other large-scale events, such as political gatherings, exhibitions, and trade shows.
Sports Infrastructure: The stadium is equipped with modern amenities, including dressing rooms, media facilities, medical facilities, and spectator stands.
Being one of the major sports and entertainment venues in Kochi, the Jawaharlal Nehru Stadium has played a significant role in promoting sports and cultural activities in the region. However, please note that there may have been developments or changes regarding the stadium and its usage since my last update in September 2021. For the most up-to-date information and events, it's best to check official sources or local news outlets.
Jawaharlal Nehru Stadium Kochi, locally known as Kaloor International Stadium is an international stadium situated in Kochi, Kerala. It is the third largest stadium in India next to Eden Gardens and Salt Lake Stadium, Kolkata. It can hold up to 70,000 spectators. It was built by the Kerala government in association with the GCDA (Greater Cochin Development Authority) in 1996.

It was constructed mainly for football matches. But now it is one of the favorite venues for International cricket matches. The large ground is also used for many social, cultural, and political meetings and exhibitions.

The first International match held in Jawaharlal Nehru Stadium Kochi was the Nehru Trophy football tournament in 1997. The first international cricket match held here was between India and Australia in 1998. The stadium is well equipped for playing in night with modern floodlights.

This is the home ground for the Kochi football club, Chirag United in the I league. Since 2012, it is also the home ground for the Kerala celebrity cricket team, Kerala Strikers.

Address
Stadium Road, Kaloor, Kochi, Kerala 682020
Capacity
60,000 Limited to 29,748 for 2017 FIFA U-17 World Cup and 39,000 for Indian Super League
Record attendance: 1,00,000(India vs Iraq International friendly football match)
Owner
Greater Cochin Development Authority (GCDA)
Teams
Kerala Blasters FC, India national cricket team, Kerala cricket team
Did you know
Jawaharlal Nehru Stadium is the fifth-largest stadium in India by capacity (60,000)