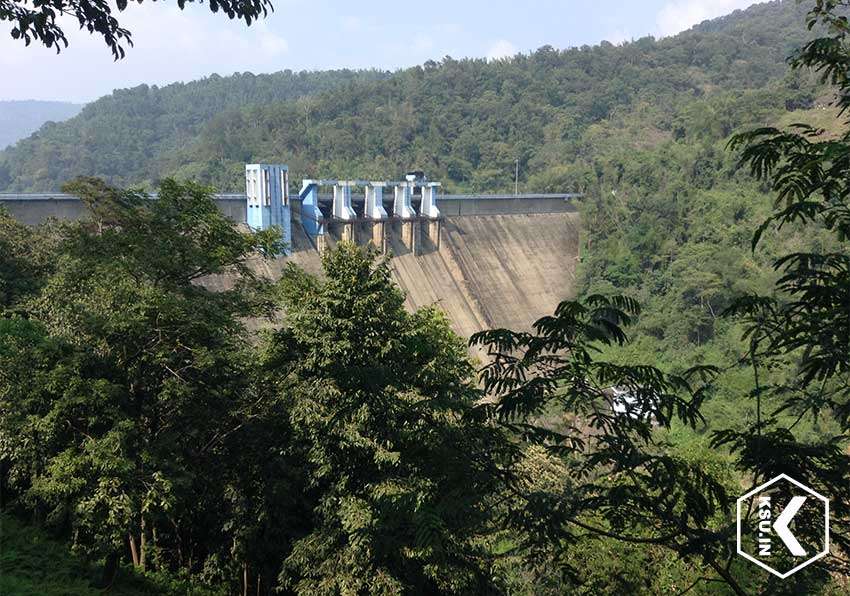 Dams and Reservoirs in Kerala are not just meant for irrigation or generating electricity but are excellent picnic spots.
If you are looking for unique travel experience in Kerala, then just consider dams and reservoirs of the state. Even though they have been made for irrigation purposes and to generate electricity, many of them are surrounded by beautiful gardens, scenic environment and great amusement parks. You will certainly admire the rich greenery surrounding those dams and reservoirs. The grasslands and the forests around these places make them an excellent stopover.
Travelers can enjoy wide varieties of flora and fauna by visiting some of the popular dams like Bhoothathan Kettu Dam. It locates in Kothamangalam in the midst of forests and certainly a paradise for a botanist. Some other dams offer mind-blowing opportunities for trekking, rock climbing and other activities. You can enjoy marvellous nature and indulge in a bit of boating at the Mattupetty Dam in Idukki. It must be a wonderful experience to go to Kalpetta in order to watch the largest earthen dam in the country, the Banasura Sagar dam. It is also the second largest dam in Asia. Many hikers visit this spot because it is an excellent starting point for them. Besides, they will get the chance to enjoy the scenic mountains surrounding this dam.
The beautiful Idukki Dam built across the Kuravan and Kurathi hills on the Periyar River. It is the first arch dam in Asia and the second in the world. With a height of 167.68 meters, Idukki dam is also the highest arch dam in Asia. Another famous dam in the state is the Peechi dam which locates in Thrissur. It is also an amazing picnic spot because of its large botanical gardens, eye catching cascading fountains and many other tourist interests. Take a look at the most popular dams and reservoirs of the state.
Aruvikkara Dam: This dam and its picturesque surroundings related to the sacred name of the famous social reformer Sree Narayana Guru. Aruvikkara Dam is a great picnic spot locates almost 16 kilometres from Thiruvananthapuram on the bank of Karamana River.
Banasura Sagar Dam: Being the largest earth dam in the country, Banasura Sagar Dam is a must-visit attraction of travelers to Wayanad. It locates almost 25 kilometres northeast of Kalpetta. You will love to explore the surroundings of this mini hydel project which is also the second largest earthen dam in Asia.
Bhoothathankettu Reservoir: Situates in a large virgin forest, you can reach the Bhoothathankettu Reservoir by travelling around 50 kilometres from Ernakulam. This popular tourist destination is mythologically associated. The Salim Ali bird Sanctuary at Thattekkadu is very close to this reservoir in Kerala.
Cheruthoni Dam: With scenic surroundings, Cheruthoni Dam fascinates a lot of travellers to its site. This panoramic picnic spot is hardly 2 kilometres away from Idukki Arch Dam.
Chulliar Dam: Enjoy beautiful views of the hills by visiting the Chulliar Dam. Since it locates at the base of the Western Ghats, travelers can enjoy a mind-blowing experience by exploring the scenic nature surrounding this dam.
Idukki Arch Dam: This is a well known and panoramic dam that constructed on the Periyar River across the Kuravan and Kurathi hills. Idukki Arch Dam is the first arch dam in Asia and the second one in the world. A lot of travelers visit this dam in order to enjoy the amazing greenery surrounds it. Besides, it locates near Cheruthoni Barrage. This dam has almost 550 feet high and 650 feet width.
Kakkayam Dam: You can reach this dam by travelling almost 45 kilometres from Kozhikode. In addition to the picturesque surroundings, this region has exotic wildlife. Besides, this area offers excellent rock climbing and trekking options.
Kakki Reservoir: People love to enjoy boating in the artificial lake in the area. One can enjoy mesmerizing experience by watching the unique wildlife in this place that provides exquisite moments during your boating in the lake.
Karappuzha Dam: Enjoy beautiful views of the dam and the majestic surroundings by visiting this dam. It locates at North-East of Kalpetta around 13 kilometres away. Never forget to visit this dam if you plan a trip to Wayanad.
Kundala Dam: Kundala Dam is a must visit attraction for travelers to Munnar. This beautiful place is almost 20 kilometres away from Munnar Town on the way to Top Station. There is an artificial lake in the picnic spot where visitors love to enjoy boating. The famous Aruvikkad Waterfall is near to this dam.
Malampuzha Dam: With beautifully landscaped garden and a stunning dam, Malampuzha Dam is an excellent picnic spot in Palakkad. It locates almost 10 kilometres away from Palakkad Town on the lower hilly areas of Western Ghats. The dam got its name from the Malampuzha River, a tributary of the longest river in the state, Bharathapuzha. Malampuzha is a lush and charming green town. Besides the large irrigation dam, the destination offers many great trekking trails.
Malankara Dam: This artificial dam is around 6 kilometres away from Thodupuzha. It spreads over more than 11 kilometres and many people find it an excellent picnic spot.
Mangalam Dam: Built across the Cherukunnath River, this dam is a hot picnic spot. People love this area because of its beautiful lawns and parks. Locates almost 50 kilometres away from Palakkad, visiting Mangalam Dam can be a wonderful experience.
Mullaperiyar Dam: This dam built across the Periyar River and a great picnic spot. It is an enchanting artificial lake which truly enhances the beauty of the famous hill station, Thekkady. Mullaperiyar Dam is around 192 kilometres away from Ernakulam. Many people choose this destination for a picnic because of its rich wildlife.
Neyyar Dam: Neyyar Dam is a very popular picnic spot in Thiruvananthapuram. In fact, this dam is around 32 kilometres away from the capital city. This dam provides many attractions for the visitors. You will love to visit its crocodile farm, watch tower, deer park and lion safari park. Besides, this picnic spot offers amazing boating facilities. Of course, a traveller can enjoy memorable experience by visiting the Neyyar Dam.
Pazhassi Dam: Enjoy the scenic beauty of the surroundings of the lovely Pazhassi Dam. This beautiful retreat is almost 37 kilometres away from Kannur. If you look for a scenic spot for your one day trip with family or friends, this dam site can be a good choice for you. With excellent dormitory facility, one can find staying option at the Project Inspection Bungalow during your trip to Pazhassi Dam.
Peechi Dam: It is another spectacular dam-site in Kerala. Each visitor to this dam should admire the charm of the flowery gardens at the site. Try to visit the famous Peechi-Vazhani Wildlife Sanctuary if you are a nature lover and love to watch exotic wildlife. This beautiful place also offers facilities for boating. You can reach Peechi Dam by travelling around 20 kilometres east of Thrissur.
Peruvannamuzhi Dam: This amazing dam locates in the middle of scenic hills. You need to travel nearly 60 kilometres from Kozhikode in order to reach this enchanting picnic spot. Visitors love to enjoy row and speed boat cruises in this reservoir.
Pothundy Reservoir: Plan a trip to Pothundy Reservoir to enjoy its beautiful nature. This reservoir is almost 46 kilometres away from Palakkad on the way to Nelliampathy. Many people choose this site for half-day trips or picnics.