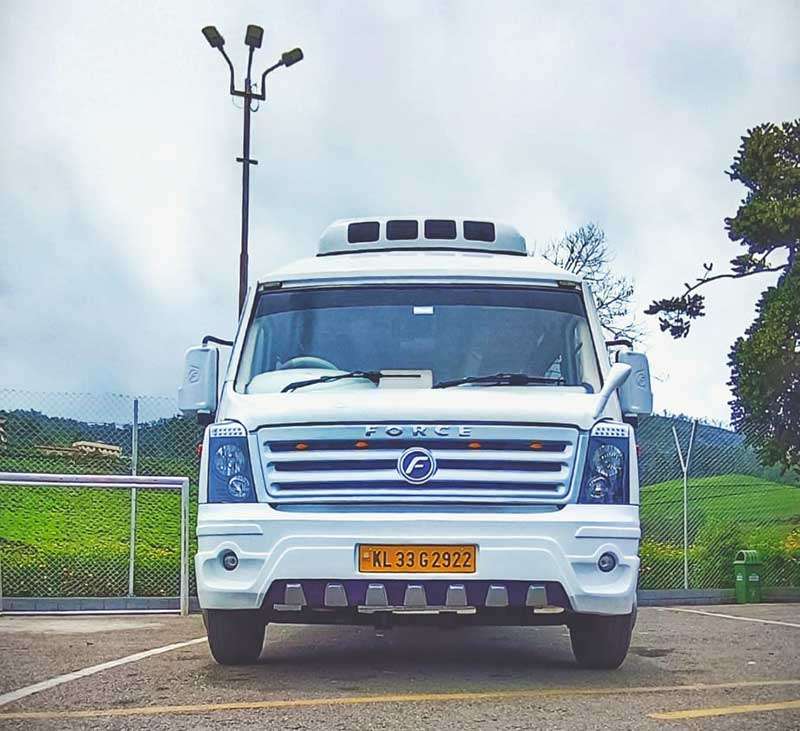 Rent The Finest Tempo Traveller In Cochin, Kerala. Seeking a Tempo Traveller for rent in Cochin, Kerala? Let us assist you in finding the perfect option.
MAKE A QUICK ENQUIRY TO TEAM KARMIC
We are here to help you plan something special and memorable. If you want to ask us something, you go ahead and we will get back to you ASAP.
If you're considering an extended vacation or a high-end travel experience, our 9 & 10-seater ultra-luxury tempo traveler with 1+1 seating is the ideal choice for you. Our rented luxury tempo traveler in Cochin promises a lavish journey for those seeking comfort and style. We also offer luxury tempo traveler services from Cochin for tourists looking to explore the entirety of South India in absolute luxury, complete with all essential amenities and a cooler box in the vehicle. Our rental luxury tempo traveler boasts a fully wooden interior, allowing you to indulge in luxury throughout your journey.
Experience the pinnacle of comfort during your extended travels with Karmic Tourism. Our services are designed to ensure your journey is nothing short of exceptional. Our fleet of 10-seater Premium Tempo Travellers in Kerala is equipped with state-of-the-art amenities, including Android TVs, mobile chargers, and custom-built, generously cushioned seats, making your Kerala tour package the epitome of comfort.
Whether you're planning to explore the beautiful destinations of South India, our 10-seater Premium Tempo Traveller departing from Cochin is your ideal choice for a premium travel experience.
If you have 12 passengers in your group, the ideal choice among the Karmic Tourism fleet is our 12-seater premium Tempo Traveller in Kerala. Our specialization lies in delivering top-tier premium services to all Kerala tourists with our 12-seater premium Tempo Traveller. Our rates for the 12-seat premium traveler are budget-friendly, ensuring you can enjoy a premium service without breaking the bank. We provide a range of premium amenities, including custom-built comfortable seats, Android Smart TV, mobile chargers, and more, to enhance your journey and make it truly exceptional.
We provide top-notch rental services for 10-12 seat tempo travelers in Cochin, Kerala. Our 10-12 seater tempo travelers are ideal for family Kerala tour packages, ensuring utmost comfort with features such as air conditioning, music systems, and TV. Additionally, we offer exclusive discounted packages for 12-seater tempo travelers traveling from Cochin to Munnar, as well as for those looking to hire a 12-seater tempo traveler for their entire Kerala journey.
The 17-seater tempo traveler, widely chosen by families and groups, is a popular choice for Kerala tour packages. We also provide 17-seater tempo travelers for rent, specifically for Sabarimala trips from Cochin. You can hire a 17-seater tempo traveler in Cochin for your Velankanni tour or a journey to the Tirupati Temple, all at very affordable and budget-friendly rates. Our AC tempo travelers in Cochin, Kochi, and throughout Kerala are equipped with features such as air conditioning, high-end music systems, TVs, comfortable pushback seats, and individual AC blowers for each seat, ensuring a comfortable and enjoyable journey.
If you're considering a group excursion with friends or family, our 19-seater AC push-back tempo traveller is the perfect choice. Our rental service offers a luxurious experience, featuring individual AC blowers for each seat and generous reclining angles for added comfort. Our fleet of 19-seater tempo travellers for hire in Cochin boasts premium wooden interiors to ensure a combination of comfort and luxury.
Whether you're planning a family excursion, a college study tour, or an industrial visit from your institution, our 26-seater Tempo Traveler is the ideal choice to meet your transportation needs. Featuring a comfortable 2+2 seating arrangement and individual air conditioning blowers for each passenger, our 26-seater Tempo Traveler in Kerala is the perfect companion for your journey. We also offer Velankanni family trips from Cochin, Tirupati Temple visits from Cochin, and Sabarimala taxi services from Cochin, ensuring a comfortable and reliable travel experience with excellent service at an affordable and great value for your money.
Driver batta is included in all costs. However, tolls, parking charges, interstate taxes, and permits are not part of the rate.
Rates may change during seasonal or festive days.
The rate is calculated from garage to garage and includes AC charges.
The driver/chauffeur's duty hours per day are from 8 am to 8 pm.
Our drivers/chauffeurs are fluent in Hindi and English for your convenience.
Anything not mentioned above is considered an additional cost.
Hire The Best Tempo Traveller For Rent Cochin Kerala
Tempo Traveller Rent In Kochi
Kochi Tempo Traveller Rentals
Book Tempo Traveller For Rent In Kochi At Affordable Prices
Tempo Traveller Service Booking Kochi – Kerala
Tempo Traveller Rental In Kochi
Traveller Kerala
Tempo Traveller Hire In Kochi
17 Seater Luxury Tempo Traveller In Ernakulam
Tempo Traveller Rent In Ernakulam
Tempo Traveller Taxi Kerala
Tempo Traveller Price In Kochi
17 Seater Tempo Traveller Rent In Kochi
12 Seater Tempo Traveller Rate Per Km
17 Seater Tempo Traveller Rate Per Km In Kerala
9, 10, 12, 14, 17, 20 Seater Tempo Traveller On Rent In Kochi
17 Seater Tempo Traveller Rent In Cochin Ernakulam
Tempo Traveller For Rent In Cochin Kerala, Seating Capacity
Tempo Traveller For Rent In Kochi
Tempo Traveller 12/14/17 Seater Taxi Booking Rate In Kerala
Kerala Tempo Traveller Rentals
Tempo Traveller Rental In Kochi
Tempo Traveller – Kochi Outstation Car/coach Rental
Best Tempo Traveller Hire In Kochi
Top Tempo Travellers On Rent In Kochi
Tempo Traveler In Kochi
Traveller In Kerala
12 Seater Tempo Traveller Rent In Cochin
Tempo Traveller 12 Seater In Cochin