LUXURY TEMPO / FORCE TRAVELLER FOR RENTAL IN KOCHI FOR KERALA TOUR – UPGRADED TRAVEL EXPERIENCES
Luxury Traveler Rental Kochi – Luxury Force Tempo Traveler Rental In Kochi / Cochin – sometimes, you just need a little bit more space.
Hire a Super Luxury Tempo Traveler In Kochi. For the more discerning clientele that would like to arrive in style and luxury, select our Luxury Traveller Rental Kochi range for Kerala Tour.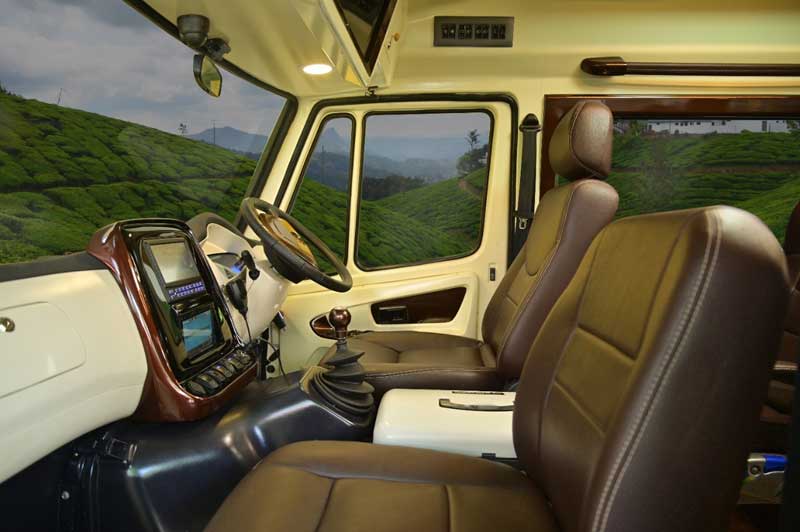 Our Luxury Tempo / Force Traveler represents the pinnacle of style and elegance. No detail was left unturned in creating and the result is an elegant, modern design that will impress even the most discerning clientele. Some of the amenities included are multiple LCD TVs, DVD, Recliner Seats, Mood Lighting, Moon Roof etc as standard equipment.
Holds either 9 or 10 passengers (two sizes available). For either corporate group transfers or leisure travel this multi-purpose vehicle can accommodate your needs. Whether out on the town for a holiday, touring the city or traveling to and from Kochi International Airport, our Luxury Traveller provides a classic sense of luxury.
Our custom-built luxury travellers offer amenities such as a decanter and drinking glasses, mood lighting, a moon roof, TV with DVD player, and a premium stereo sound system with CD player.
Karmic Tourism Luxury Van / Traveller is designed for convenience and generous space as well as providing safety, ergonomic design, and exceptional flexibility for long or short excursions for groups of up to 10 passengers and luggage..
Seats 10 People
Comfortable Individual Seats With Retractable Seat Belts
Upscale Van With Hardwood Floors
Ambient Lighting
Air Conditioned
AC Power And USB Outlets For Each Seats
Backup Live Camera`s
High Top Roof
Large View Windows
Personalised AC Vents
2 Ton Air Conditioner To Stay Cool On The Move
LED Televisions With Full Surround Sound Entertainment
On Board Wi-Fi
Multiple Seat Adjustment Options
Ample Legroom
1×1 Configuration Seat Layout For Wider Alley
There are lots of reasons to choose luxury van rental from Karmic Tourism. Our vehicles allow you to take advantage of copious amounts of legroom and luggage space and provide the convenience and flexibility that far larger cars cannot offer.
MAKE A QUICK ENQUIRY TO TEAM KARMIC
We are here to help you plan something special and memorable. If you want to ask us something, you go ahead and we will get back to you ASAP.