Hiring a traditional thatched Kerala houseboat and exploring the backwaters is a quintessential Kerala experience.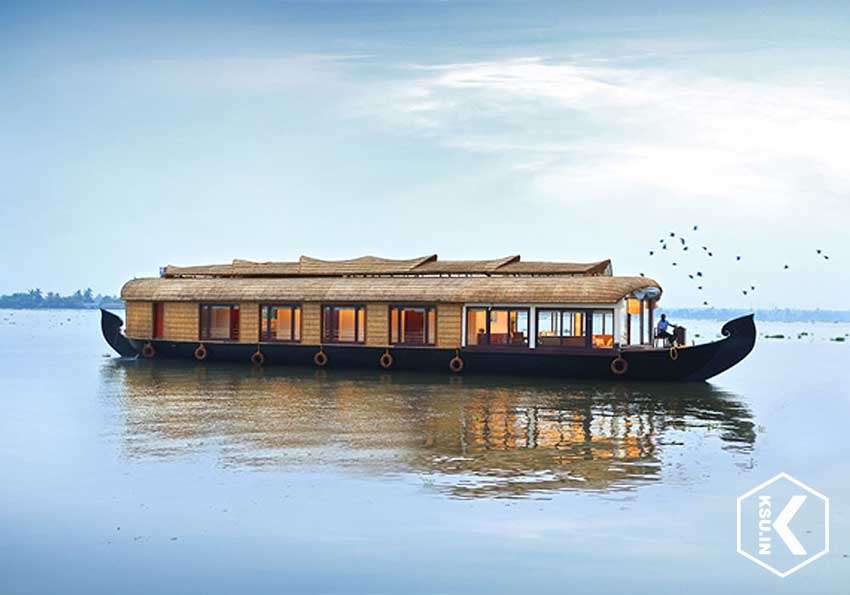 Kerala houseboats, also known as "Kettuvallam," are traditional boats that are unique to the backwaters of the southern Indian state of Kerala. These houseboats have become a popular tourist attraction due to their charming and serene cruising experiences along the intricate network of canals, lagoons, and lakes in the region.
Key features of Kerala houseboats:
Design and Construction: Houseboats in Kerala are traditionally crafted from natural materials like bamboo, coir, and wood. They are designed with a distinctive curved, thatched roof made from woven coconut palm leaves. The boat's construction is eco-friendly and sustainable.
Accommodation: Kerala houseboats are essentially floating cottages with well-furnished interiors. They offer various facilities like bedrooms, bathrooms, a dining area, and sometimes even a small kitchenette. The houseboats come in different sizes, accommodating different group sizes.
Cruising Routes: Houseboats navigate through the backwaters of Kerala, primarily in places like Alleppey (Alappuzha), Kumarakom, and Kollam. These routes take you through a picturesque landscape of palm-fringed canals, paddy fields, and small villages.
Cuisine: Most houseboat operators provide authentic Kerala cuisine onboard, which often includes rice-based dishes, coconut-based curries, seafood specialties, and traditional snacks. Meals are usually prepared by onboard cooks.
Scenic Beauty: The houseboat journey offers a unique opportunity to experience the serene beauty of Kerala's backwaters. You can witness local life along the waterways, observe birds, and enjoy stunning sunsets and sunrises from the comfort of the boat.
Customization: Some modern houseboats come equipped with modern amenities like air conditioning, Wi-Fi, and even entertainment systems. However, there are also more traditional houseboats available for those seeking an authentic experience.
Cruising Experience: The houseboats move at a leisurely pace, providing a calm and relaxing experience. They offer a chance to disconnect from the hustle and bustle of daily life and immerse oneself in the tranquil surroundings.
Kerala houseboats are a popular choice for honeymooners, families, and tourists seeking a unique and peaceful vacation experience. They offer an opportunity to explore the natural beauty, culture, and local life of the backwaters in a truly distinct way. If you're considering a visit to Kerala, a houseboat cruise should definitely be on your list of things to experience.
Live in a houseboat in the backwaters Kerala is God's Own Country and Alleppey, green and serene, is a piece of paradise. The best way to experience the part of Kerala that seems to float on the backwaters is to cruise along the waterways in a rice boat. These long boats were once used to transport rice and other goods. Now, they are a tourist attraction, offering a unique experience. You can choose to stay in a houseboat moored at the water's edge and equipped with most luxuries. Taking in the daily life of villages humming along at a quiet pace is one of the pleasures of the houseboat stay.
When you're on a houseboat trip in Kerala, check out one of the specialties of the region—the toddy shops, local watering holes with great food.
Kerala Houseboats – Discover enchanting Backwaters – Kerala's unique Houseboats, locally known as Kettuvalloms help the tourist in discovering the enchanting backwaters and lively villages of Kerala on a houseboat cruise. The Houseboats of today are used for leisure trips to encourage tourism, but in old days, these Kettuvalloms were used for commercial purpose to transport goods from different isolated interior villages to the towns.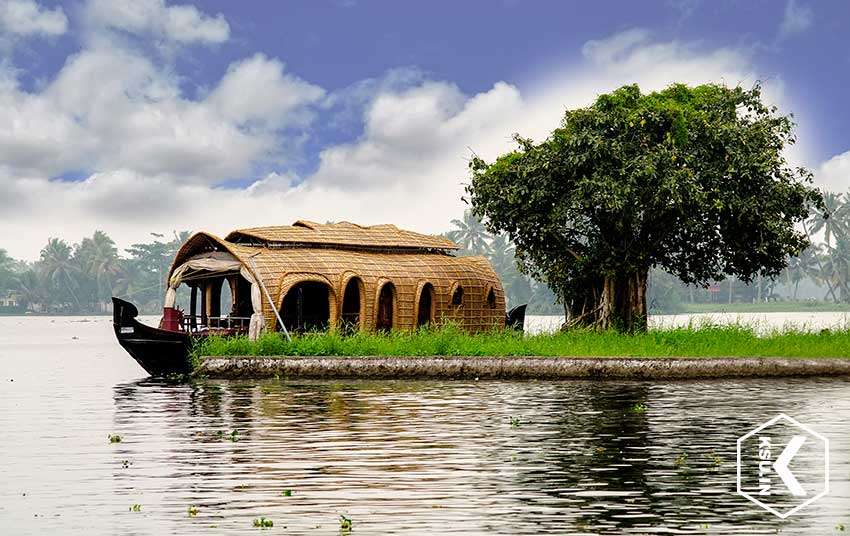 Some of the most popular backwater destinations of the state are Kochi, Vembanad Lake, Kumarakom, Kollam, Kuttanad, Thiruvallam, Alleppey (Alappuzha), etc. By navigating these waterways on a Kerala house boat tour, you will not only be able to see amazing sights, but you will also benefit from luxurious accommodation and high-class service from the crew.
The houseboats are constructed out of wood and other natural materials, such as coconut fiber and bamboo poles, making them both sturdy and environmentally friendly. The average houseboat is approximately 25 metres long and they are made by binding together planks of jackfruit wood, with no nails being used during the production process. They have a private balcony and a sun deck so that you can fully enjoy the amazing scenery and weather. They will also have air conditioning if you want to get away from the sun for a while.
Houseboats in Kerala have a three-member crew – a chef, driver & cabin assistants. The cuisine is traditional Kerala flavor with various spices of the local specialties; delicious local fish. There are single-bedroom houseboats to 5-bedroom houseboats.
The houseboats are provided with all modern amenities like open sit-out, spacious living area, kitchen, and bath attached bedrooms with T.V. All these facilities enable the guest to feel at home away from home