The Distinctive Museum Of Architectural Ethnography And Anthropology In India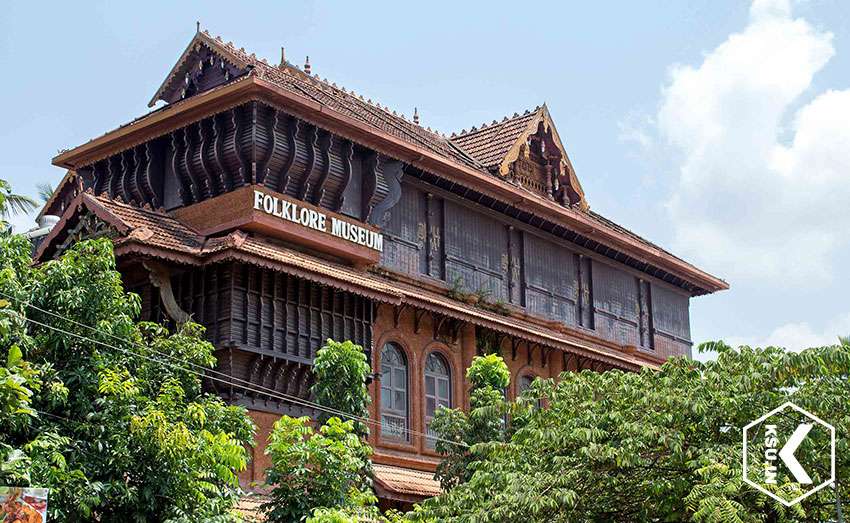 Fashioned in the traditional Kerala style, this family-operated Kerala Folklore Museum is the brainchild of George J Thaliath, an antique dealer who has meticulously gathered antiquities from ancient temples and enchanting historic residences. The museum boasts an invaluable assortment of more than 5,000 artifacts, encompassing three distinct architectural styles: the ground floor showcases the Malabar style, the first floor exudes the charm of Kochi/Portuguese design, and the top floor reflects the elegance of Travancore architecture. The exquisite theater on the uppermost level features an 18th-century wood-carved ceiling adorned with depictions of Hindu deities, along with vibrant murals depicting the epic tales of Ramayana and Mahabharata.

The Kerala Folklore Museum, situated in the picturesque city of Kochi at Thevara, stands as a remarkable architectural marvel, making it an essential destination for those seeking to immerse themselves in the diverse art forms of Kerala. Kerala, a jewel in India's cultural heritage, is home to numerous organizations dedicated to preserving and promoting the state's rich culture and heritage, with the Kerala Folklore Museum being a prominent non-profit institution committed to championing the folklore of the region. This museum is a compelling stop for those eager to explore the city's enchanting tourist attractions, providing invaluable insights into the culture and life of Kerala's common people spanning many centuries.
Museum Collection
This exceptional museum stands as a prime exemplar of traditional Kerala architecture, constructed using a blend of wood, laterite stone, and clay tiles. It proudly houses an extensive assortment of over 6,000 artworks, representing the most extensive collection of ethnic treasures.
Antique Shop
Kerala Folklore Museum specializes in Indian folk art, showcasing invaluable artifacts that come with a rich history, unique materials, and significant historical importance. Additionally, they offer fair market price assessments for each of these artifacts. We take pride in providing provenance certificates and buyback guarantees for purchases made from our antique store.
Face Art Gallery
The Folklore Museum is dedicated to promoting and supporting contemporary and modern artists by providing them with a platform to showcase their creative works. They have established a vast network of diverse artists, offering an opportunity for them to display their art to the museum's visitors. In the gallery, visitors have the chance to acquire a wide range of art, including oil paintings, mural paintings, portraits, and traditional styles such as Tanjavur Art Works, Mysore paintings, and faithful reproductions of age-old Indian painting traditions.
Ethnic Handicrafts
The Folklore Museum actively promotes and facilitates contemporary and modern artists in showcasing their creative works within their gallery space. They maintain an extensive network of diverse artists to present their art to museum visitors.
Handmade Textiles
Folklore Museum operate a dedicated store to support local artisans by showcasing and facilitating the sale of their products. Diverse collection includes a wide range of Kerala sarees, handwoven items, 100% cotton fabrics, and other natural clothing materials.
A Unique Endeavor
Established in 2009, the Kerala Folklore Museum emerged as a unique initiative aimed at safeguarding and celebrating the abundant folklore heritage of the state. Located in Thevara, Kochi, this museum invites visitors to embark on a captivating journey through history, offering a delightful glimpse into times long past. It serves as a wonderful platform to acquaint oneself with the opulent culture and heritage of Kerala, making it a perfect spot for a leisurely outing due to its extensive collection of artifacts.
An Architectural Marvel
If you are captivated by the exquisite architectural styles of Kerala, a visit to the Kerala Folklore Museum is a must. This three-story edifice faithfully follows the architectural styles of Travancore, Cochin, and Malabar. Its entrance, constructed from the remnants of a 16th-century Tamil Nadu temple, showcases intricate wood carvings collected from various parts of Kerala. Noteworthy are the traditionally adorned entrance door locks, known as "Manichithrathazhu," and the wood-pierced windows near the entrance that exude the charm of Malabar's architectural style.
Things to Explore
Visitors to the museum are treated to a diverse array of traditional dance and art forms from the state, vividly illustrating its rich heritage. Additionally, the museum houses a wealth of artifacts that transport you to bygone eras, including exquisite stone, bronze, and wood sculptures, masks, traditional jewelry, ritual and traditional art forms, Stone-Age utensils, musical instruments, and ancient manuscripts revealing astrological secrets and rare medicinal wisdom—all carefully preserved within the museum's walls.
Enjoy the architectural elegance of Cochin on the museum's first floor, known as Kalithattu, where you can admire the costumes of various traditional dance and art forms of the state, such as Kathakali, Theyyam, Mohiniyattam, and Ottanthullal. The second floor, Kamaladalam, features a striking wooden chiseled ceiling adorned with 60 frames and several exquisite mural paintings.
Live Stage Performances
The Kerala Folklore Museum boasts a dedicated theater where guests can relish daily stage performances. Be sure to visit the museum at 6.30 PM to witness traditional and ritual dance forms from the state, adding an extra layer of cultural immersion to your experience. This splendid museum is the fruit of the unwavering determination and efforts of Mr. George Thaliath and his wife, Annie George, with many skilled carpenters and workers dedicating over seven years to completing this architectural gem.
Plan Your Visit
At Karmic, we facilitate travelers' visits to the museum, which is open daily from 9:30 AM to 7 PM. Whether you're embarking on an educational visit or visiting with a group, we ensure your convenience and offer advance booking options for educational excursions. The museum also arranges lectures on folklore studies related to various art forms, culture, and heritage, delivered by experts. Adult visitors can enter for Rs. 100, while students gain access for just Rs. 50.
Group Excursions
For groups planning to explore the museum, advance booking is available. The museum hosts numerous activities and lectures, allowing group visitors to deeply engage with traditional art forms of the state. Many opt for the "Day with Master" experience, which provides an opportunity to attend classes on face painting, culinary arts, and short courses on classical dance forms like Bharathanatyam, Mohiniyattam, Kathakali, and the renowned martial art, Kalaripayattu. Guide services are available upon request, enriching the understanding of these performing arts and traditional crafts.
Museum Amenities
In addition to its diverse collection of artifacts, the museum offers an exhibition and sale of contemporary and antique arts, making it a haven for art enthusiasts. You can also explore a souvenir shop featuring antique crafts, hand-woven textiles, books, jewelry, lifestyle artifacts, wood carvings, and palm fiber products. For a taste of Kerala's culinary delights, visit the Spice Art Café within the museum. Moreover, the museum provides separate shopping spaces for coffee, tea, Ayurvedic products, aromatic perfumes, and organic spices. An ethnic theater is yet another highlight at the Kerala Folklore Museum, where guests can savor a variety of traditional art forms.
Important Information for Your Visit to Kerala Folklore Museum
Before visiting the Kerala Folklore Museum, there are some essential details you should be aware of:
Footwear is not permitted inside the museum. Upon arrival, you will need to remove your shoes and leave them at the entrance. It's advisable to have socks with you, as going barefoot might be uncomfortable.
Similar to many museums in India, there are different admission prices for Indian nationals and foreigners. Students can often enjoy discounted entry fees.
If you intend to take photographs, even with your mobile phone, you'll be required to pay an additional camera fee. It's important to note that this fee is applied per group, not for each individual.
The museum boasts a charming coffee shop that offers a variety of herbal drinks, tea, coffee, homemade treats, and a fascinating display of traditional Kerala kitchen utensils and pottery.
If you're interested in souvenirs, the museum shop is the place to explore. It features a selection of home textiles, clothing, antiques, and artisanal craft items. While prices may be slightly higher than what you find in the city's markets, the shop provides certificates of authenticity for antiques.
Convenient Accessibility
Kerala Folklore Museum is conveniently located in Thevara, Kochi, with Cochin / Kochi International Airport approximately 30 kilometers away. The nearest railway station, Ernakulam Jn, is well-connected to major towns and cities in Kerala and across India. Travelers can easily find KSRTC and private buses from the railway station and airport to reach the museum, or they can opt for a taxi service.