Gavi Eco Tourism – A Different Tourist Experience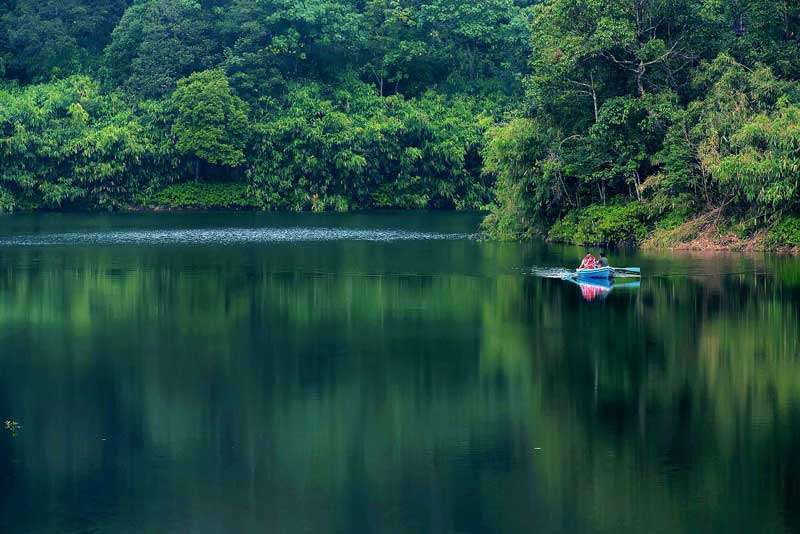 Gavi Eco Tourism is an eco-tourism project located in the Ranni Forest Range of Pathanamthitta district in Kerala, India. It is a popular destination for nature lovers and wildlife enthusiasts.
The eco-tourism project was started by the Kerala Forest Development Corporation in 1996. It covers an area of about 600 hectares and is home to a variety of flora and fauna, including elephants, tigers, leopards, deer, monkeys, and birds.
Gavi Eco Tourism offers a variety of activities for visitors, including trekking, camping, bird watching, and jeep safaris. There is also a visitors' center with information about the eco-tourism project and the surrounding area.
To visit Gavi Eco Tourism, you need to obtain an entry pass from the Forest Check Post en route at Vallakkadavu. The entry fee is INR 70 for Indian adults and INR 140 for foreign adults. Children below 13 years of age are free.
The best time to visit Gavi Eco Tourism is during the monsoon season (June to September) when the forest is lush and green. However, the eco-tourism project is open all year round.
Here are some of the things you can do at Gavi Eco Tourism:
Trekking: There are several trekking trails in the eco-tourism project, ranging from easy to challenging.
Camping: There are several camping sites in the eco-tourism project, where you can spend a night under the stars.
Bird watching: The eco-tourism project is home to over 260 species of birds, making it a great place for bird watching.
Jeep safari: Take a jeep safari through the forest to see the wildlife.
Visit the visitors' center: Learn more about the eco-tourism project and the surrounding area at the visitors' center.
If you are looking for a place to escape the hustle and bustle of city life and experience the beauty of nature, Gavi Eco Tourism is a great option.
Flaunted as one of the must see eco tourist spots in India, Gavi of Kerala has been catching attention in the tourist map for all the good points it has. To reach Gavi you have to take a 40 km drive from Kumily through the breathtakingly beautiful roads across the lush green tea plantations. The best transportation would be to select a Jeep ride; it will help you to explore every nook and corner of Gavi. What is appealing about Gavi is its pristine natural charm untouched by the mass tourism trails, verdant forests, rolling grass lands and waterfalls. It is the home of 260 avian species and is a haven for bird watchers.
The Kerala Forest Development Corporation Ltd sponsors the Gavi Eco tourism programme. It aims to promote sustainable tourism without spoiling the tranquility of the tropical forest of the Western Ghats. Gavi is not only a destination popular among nature enthusiasts; it is a favorite place of adventure tourists and research tourist who come here to explore the rare flora and fauna of Gavi.
Places
Take a stroll around, merge and feel the oneness with nature. Peripheral areas will give you glimpses of rare species of animals of Gavi like Nilgiri Tahr and Lion-tailed macaue, and bird species such as Great Pied Hornbill, Woodpecker, Kingfishers, etc.
If you can take a short trek along the hill, you will reach Sabarimala Ayyappan Temple, one of the most-visited and famous pilgrimage centers of India.
The Paradise Cove at Ninnumulli is the delight of nature lovers, so make a point to visit it. Some other places that can fascinate you near Gavi are Kuttikanam, Peerumedu, Vandiperiyar and Cardamon factory visits.
Things To Do
Bird watching are not the only activity in Gavi, the place is great to go for trekking, hard-core trekker will find the best trekking trail here. They can explore the deep jungle trekking through Pullumedu Peak (the way to Shabarimala shrine) the much acclaimed and chosen. Waters of Gavi and Kochupamba is the best place to go for boating and canoeing. If you are looking for some extra adrenaline rise, a night's stay at huts in tree top, jungle night safaris through jungle roads and night camping in intense forest are some of the choices you can make.
Location
The place is located at the easternmost extreme of Pathanamthitta district of Kerala and is 3400 ft above sea level.
Climate
During summer it is warm with temperature raising to a maximum of not more than 25 degree Celsius, here the monsoon temperature settles at 10 degree Celsius and is colder.
Best Time to Visit
The best time to visit Gavi is summer, although tourists haunt the place in monsoon too.