Alappuzha Best for Backwaters – I'M now ready to give up the pretense that I want to do anything really physical on holiday, and head straight to the backwaters where, I hope, the only exercise I'll be doing is lying down. Alleppey / Alappuzha has accommodation options by the dozen – plush resorts you can cocoon yourself in, as well as and simpler home stays – all located along its abundant water bodies. But, in pursuit of our lofty goal of doing as little as possible, we've chosen to stay on a houseboat.
Ah, yes, I've come to the right place. A houseboat, with its limited square footage and dedicated staff, offers the excuse to literally do nothing. We set off from pretty Alleppey to float on the water hyacinth-covered waters of its lagoons at a pace slightly faster than a drift, and lose the fight against inertia straight off.
Kettuvallams (Houseboats) still bear the traditional shape of the rice- and spice carrying boats, that, despite their fragile appearance would carry tonnes of load along the Malabar coastline, but on the inside. They now often feature modern shower cabinets, beds you can sink into and even television sets. We've opted for one without a TV and instead choose to let our attention be grabbed by the simply cooked fresh seafood and the gentle village life around us.
While the wider backwaters are breathtaking in their vast stillness, it's the narrower ones, which force you to switch into a smaller vallam (country boat), that really bring Kerala to you. Most vallams offer the feeling of isolation, since often a boat is their only link to the outside world. We wedge our canoe into a tangle of reeds and wander past homes built on sand to a little shrine too small to be called a temple.
Children returning from school in canoes scatter squawking ducks and head straight for us to giggle at our city-strangeness. From the other bank comes the wet sound of a woman beating her washing against a rock. To the west the sun sinks lower into the sea as fishermen light the lanterns on their boats as they set off for a bit of night fishing. This is Kerala.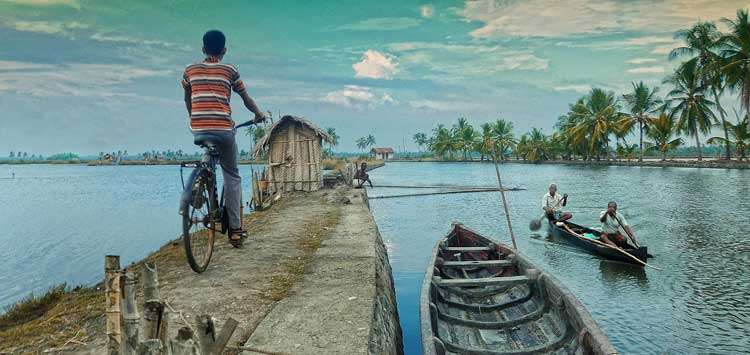 Where to Stay
Houseboats can be organised through karmictourism.com (00-91-98460 89546; karmictourism@gmail.com; Nr. Abad Nucleus Mall, Maradu, Kochi; Rs. 12000.00 a night with all meals for an Alleppey – Alleppey circuit on a one bedroom houseboat).
Where to Eat
Harbour Restaurant, part of Raheem Residency, is also open to non-residents. It serves well-made Indian and international food (00-91-477-2230767, Beach Road,; meal for two about Rs. 1,300).