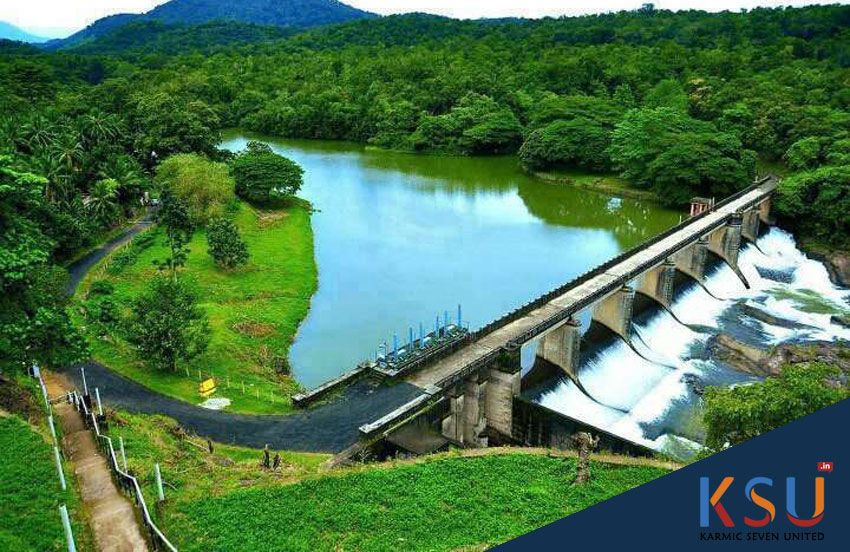 NATURE'S PLAYGROUND
Thenmala, the first planned eco-tourism destination in India is a tourist place near Punalur town, Kollam district in Kerala.
Forget silver linings – it's that time of year when you look to the sky for grey clouds. At the Thenmala Ecotourism Promotional Society, an undertaking of the Kerala government, this is a sight to behold. The freshly-showered forests of the Shenduruney Wildlife Sanctuary glisten a vibrant green against a backdrop of steely blue skies, criss-crossed at times with flashes of lightning. Catch glimpses of this scene on your journey from the foothills of the Western Ghats towards what's touted as India's first planned ecotourism destination.
Thenmala offers different zones with a variety of activities. Just after a breakfast of steaming idli-sambhar, or piping-hot puri-bhaji, if you please, is the best time to go on the Butterfly Safari (9am and 10am, 3pm and 4pm; Rs. 50). Your guide will tell you that there are 166 species in this park, but you're most likely to only spot the delicate green common emigrant or the common crow (butterfly, not bird), and probably the blue tiger too.
Post lunch, stretch your legs on the recliners set up outside each tent, but don't snooze for too long. At 3pm, a soft trek is organised daily through the forest (if you're spending the night, you can choose to go at 7am the next day; Rs. 100). The trail goes through dense patches where, if you are observant enough, you might see the bushy tails of giant squirrels leaping off the high branches. Go off the beaten path, taking care not to get too many scratches from the thorny plants, to see a 'hotel' (as your guide will proclaim) inside a tree with breathing roots. Don't expect a five-star hotel; it's just a bench formed by the roots that grow above the ground, but it's luxury for tired feet. For a boost of energy, pluck a handful of the yellow berries that hang from the Lindley's aporosa tree, called vetti in Malayalam. The tanginess of the berry varies from tree to tree.
If a trek is not up your alley, you can spot some wildlife on one of the hour-long boating trips on the lake formed by the Parappar Dam on the Kallada River (9am – 11am, 2pm – 4pm; Rs. 210). Even if the elephants haven't arrived, herds of bison can be seen grazing in the distance with their young ones in tow. The deer here are kept under protection at the Deer Rehabilitation Centre (9am – 5pm; Rs. 20). Around 40 spotted deer and 25 sambar deer live within a fenced enclosure.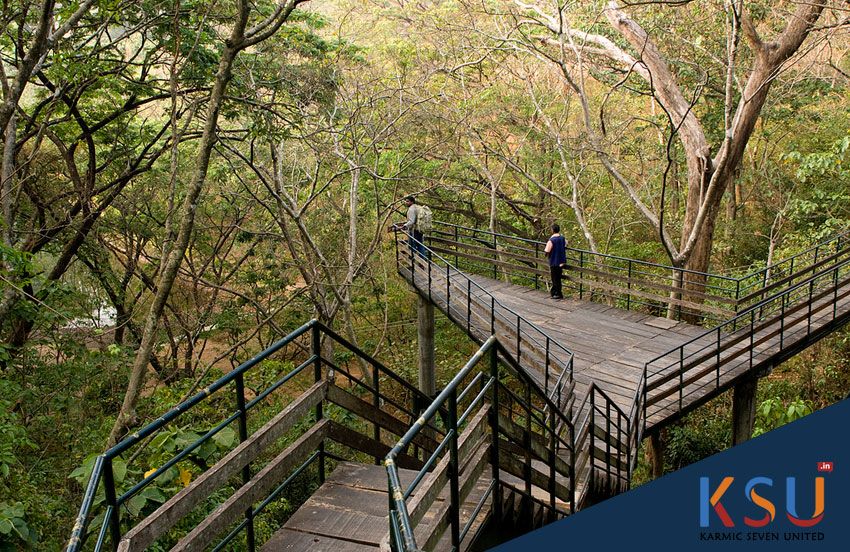 Late evening is a good time for a stroll through the Leisure Park (9am – 5pm; ' 50). The paved pathway is dotted with sculptures made of either cement or stone. There doesn't seem to be a clear theme here; at some places, there are dinosaurs lurking in the bushes and in others, giant talking heads seem stuck mid-conversation. The prettiest part is by the river, where you might find couples posing for pre-wedding shoots.
You aren't missing much if you decide to skip the Musical Fountain (7pm, except Mon; Rs. 50). For half an hour, water sputters high into the air to the beats of Bollywood 'item numbers', a couple of patriotic tunes, and the hard-to-kill Barbie Girl song by the now-dead band Aqua. Instead, you are better off tucking into an early dinner of the flavourful local cuisine. The absence of a television and wi-fi in the rooms here will go unnoticed. The day's activities are enough to ensure your eyes close long before the moon rises too high above the forest.
FACT SHEET
GETTiNG THERE
[list type="list-style1″]
Closest metro: Kochi (180km)
Closest cities: Kollam (65km), Thiruvananthapuram (70km)
Closest airports: Trivandrum International Airport (75km). indiGo and Air india fly here from Kochi (return fares from Rs. 3,325). Flights to Cochin international Airport from other indian metros during peak season tend to be cheaper. it's a long (five to six hours) but picturesque drive from there to thenmala.
Closest railhead: Kollam Junction (QLN; 65km). take the 16341 Trivandrum Express from Kochi (leaves ErnakulamJunction [ERS] 5.30am, arrives QLN 8.18am; Rs. 260 AC Chair Car) and return by the 16304 Vanchinad Express (leaves QLN 6.58pm, arrives ERS 10.50pm; Rs. 290 AC Chair Car).
[/list]
GETTING AROUND
Most attractions are within 2km from the Thenmala Ecotourism campsites. if you don't have your own vehicle, you can hire a rickshaw (from  Rs. 30).
WHERE TO STAY
Thenmala Ecotourism: There are four types of accommodation options – the Cocoon ( Rs. 4,000) is set up in the midst of the jungle, while the Nest (Rs. 4,650) is by the Kallada River. These are no-frill Swiss cottage tents with attached toilets, in cage-like structures that keep monkeys away.
The fourth option is the Honey Comb tourist home (Rs. 3,300), a simple room with an attached toilet (00-91-475- 2344800/55; www.thenmalaecotourism. com; Thenmala Dam Junction, Kollam District; all prices include meals and activities [except boating] for two).
WHAT TO EAT
The dining area is a bright, open space with a wooden rooftop and walls painted bright green. if you don't want a full Kerala-style thali, request a veg or non-veg dish with chapattis or rice. Make sure to place your order in advance.
The cost of all meals – breakfast, lunch, dinner and an evening snack with tea/ coffee – is included in the package if you stay the night. if you're visiting just for the day, meals are charged extra (from Rs. 160).
WHAT TO PACK
An insect repellent is a must, though the website mentions that a cream will be provided for a fee. The weather is muggy this time of the year when it isn't raining, so pack light cotton clothes. For the trek and other adventure activities, you will need walking shoes and a raincoat or windcheater.
SHOPPING
'Then' in local parlance is honey. There are three varieties: the honey obtained from small- and large-sized bees is sourced from the forest and has medicinal properties, whereas the honey of medium-sized bees is procured from manmade beehive boxes.
The Thenmala Ecotourism shop stocks honey from the large bees ( Rs. 300/ kg).
CLEAN LOO GUIDE
if you're driving from Kochi, a mid-point loo-stop is the KGA Elite Continental Hotel at Thiruvilla (00-91-469-2740160; Main Central Rd; www.kgaelitehotel.com).
SAFETY
There are no safety issues in the area, except for the happy-go-lucky monkeys on the suspension bridge in the Leisure Park.
MEDICAL AID
First-aid is available at the Thenmala office. The nearest dispensary is 2km away. in case of an emergency, head to the Poyanil Hospital at Punalur, 20km away (00-91-475-2230600; www.poyanilhospitals.com).
CHILD-FRIENDLINESS
Even though the rides at the Children's Park seem a little rusty, they are functional. The little (and the older) bravehearts can head to the Adventure Zone, where there is plenty to do to get the heart racing (10am – 4pm; Rs. 210/person). Activities include the Flying Fox, Burma bridge, zorbing and air-gun shooting.

Oops! We could not locate your form.