Park Regis Aveda Kumarakom is the new addition to the luxury boutique Kerala resorts in Kumarakom with modern comforts and scenic surroundings perfect to relax and rejuvenate your body and soul. You will find it a perfect holiday retreat to enjoy the scenic beauty of Kumarakom and its stunning attractions. The rustic, classic and untouched atmosphere of the resort is truly a captivating feature.
Address : V/240 A, Ammankari Road, Kumarakom
Phone : +91 481 2525500
Email : rsvprav@parkregishotels.com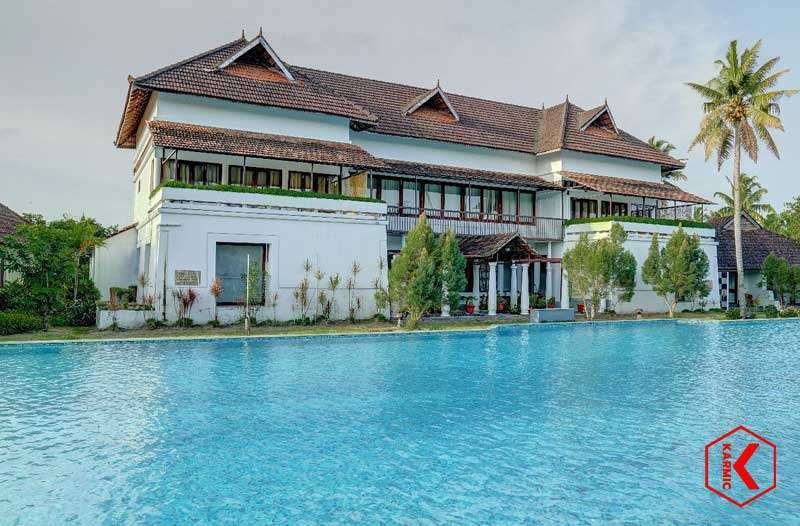 With superb accommodation, fine dining experience and outstanding beauty and health treatments, travelers can find the most comfortable and cozy accommodation in Aveda during their Kumarakom holidays. The lake front luxury accommodation truly makes your holidays in Kumarakom more attractive and convenient.
Several types of luxury residences available in Park Regis Aveda Kumarakom. The different categories of accommodation in Park Regis Aveda Kumarakom are Lakefront Luxury Villa with Private Plunge Pool, Lakeview Luxury Villa with Private Plunge Pool, Lakeview Luxury cottage, Lakeview Luxury Terrace 2 Bedroom Suite and Lakeview Terrace Luxury Rooms. All of them provide outstanding facilities to fulfil the travel needs of their guests with panoramic views of Lake.
The vast array of facilities is sufficient to make your holidays in Kumarakom memorable. Each guest will find outstanding dining experience while they are staying in Aveda Kumarakom. La Breeze is the poolside open restaurant cum lounge serves multi-cuisines for their guests. In addition, Aveda has a seafood speciality restaurant called the Vembanad Catch and a lounge bar to provide exceptional dining experience for their guests.
Both business and leisure travellers find the ambience of Aveda perfect to satisfy their leisure and travel needs. An Ayurvedic spa named Spaveda is a remarkable feature of this Kumarakom resort. Travelers who love to rejuvenate their body and soul should visit this fabulous spa in the resort. The well qualified and experienced Ayurvedic doctors from Ayurshetra offers excellent beauty and health treatments for their guests.
In addition to a fantastic spa, Aveda features a well-equipped fitness gym where guests can visit to do their daily workout. The conference-cum-banquet hall is another attraction of this resort in Kumarakom. It has the seating capacity between 120-150 people. There is a Concierge and travel desk to assist their guests. You can approach the travel desk for planning sightseeing trips or currency exchange.
Aveda also has an entertainment area and a play area for kids. Adults can spend some time by visiting the indoor game lounge of the resort. Cochin International Airport is the nearest airport to Aveda while Kottayam is the nearest railway station to reach this superb Kumarakom accommodation. Simply visit the website of Aveda or call them today to make an advance Kumarakom hotel booking with this resort.
Check In : 15.00
Check Out : 12.00
Book Kumarakom Taxi Online to Park Regis Aveda.
Hire a taxi to Kumarakom from Kochi / Cochin. Get Kumarakom Taxi to Park Regis Aveda From Kochi International Airport.
Kochi / Cochin Airport to Park Regis Aveda Taxi Cab Rental Service.
Wondering how to travel from Kochi / Cochin to Park Regis Aveda ? KSU.in provides the best Kerala Taxi Car Rental solution from Kochi to Kumarakom. Call 098479 39977 now.
Need Kochi Airport Transfers ? We have a dedicated team who are able to assist with all your Cochin / Kochi International Airport transfers requirements from Kumarakom.