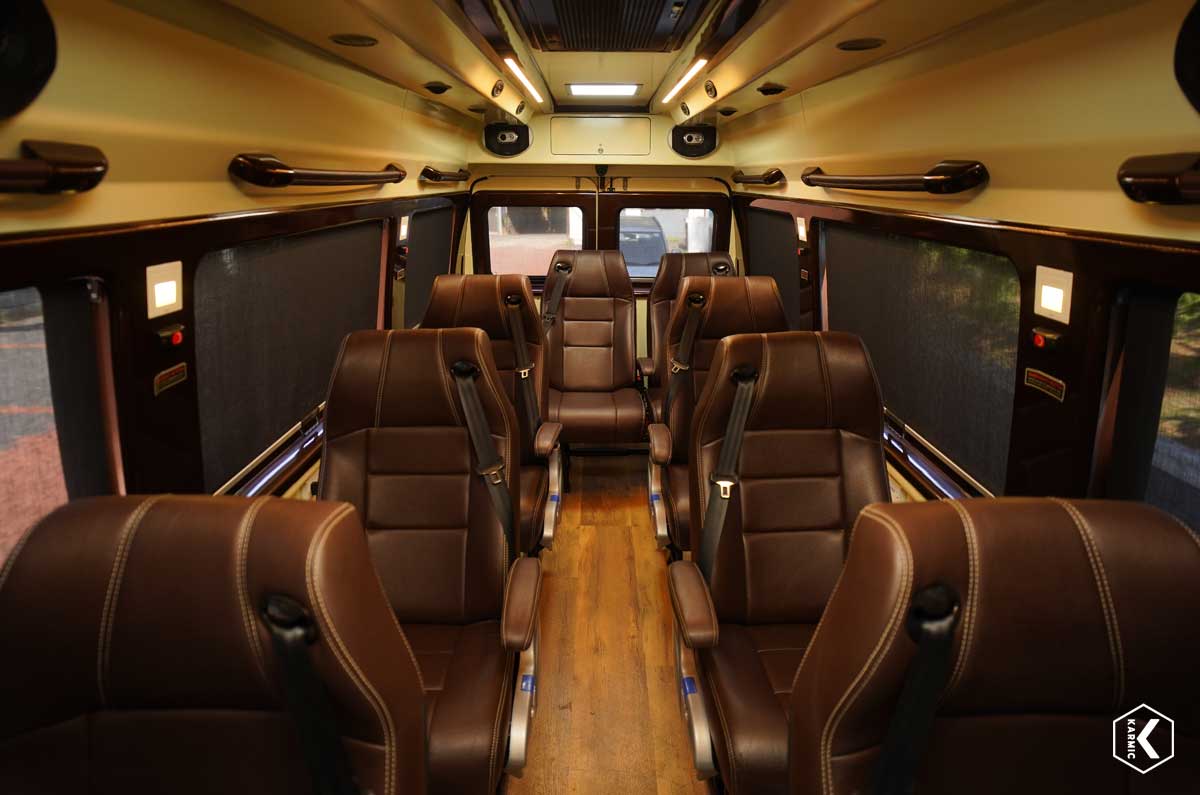 Hire Luxury Tempo Traveller in Kochi from Karmic Tourism. Karmic Tours offers a wide range of luxury tempo traveller services to and from Cochin International Airport at lowest fares.
Some Of The Features Of A Luxury Tempo Traveller Karmic Tourism Offered
Seats 10 People ( 17 Seater Van Modified to 1 x 1, 10 Seats )
Comfortable Individual Seats With Retractable Seat Belts
Upscale Van With Hardwood Floors
Ambient Lighting
Bottle And Cup Holder On Every Seat
AC Power And USB Type A & C Outlets For Each Seat
Backup Live Camera`s
High Top Roof
Large View Windows
Personalized AC Vents
2.5 Ton Air Conditioner To Stay Cool On The Move
Smart TV With Full Surround Sound Satellite Entertainment
On Board Wi-Fi
Multiple Seat Adjustment Options
Ample Legroom
1×1 Configuration Seat Layout For Wider Alley
Mic And Audio System
Skilled Chauffeurs
Easy Booking Process
Here are some of the benefits of hiring a luxury Tempo Traveller in Kochi, Kerala From Karmic Tourism:
Comfort: Luxury Tempo Travellers are equipped with features that make your journey more comfortable, such as air conditioning, reclining seats, and entertainment systems.
Convenience: Luxury Tempo Travellers can accommodate large groups, so you don't have to worry about finding separate transportation for everyone.
Safety: Luxury Tempo Travellers are generally well-maintained and have a good safety record.
Flexibility: You can customize your rental to fit your specific needs, such as the length of the rental, the date and time of your travel, and the amenities you require.
If you are planning a group trip, hiring a luxury Tempo Traveller is a great option for a comfortable and convenient way to travel.