Coconut Lagoon – CGH Earth Resort is located in a sheltered and enchanting cove in Kumarakom, this resort reflects the diversity and magnificence of Vembanad Lake.
Coconut Lagoon – CGH Earth Resort
Address : Kavanattinkara, Kumarakom, Kerala 686563
Phone : +91 481 2528200
Email : coconutlagoon@cghearth.com

Facing Vembanad Lake, Coconut Lagoon is a fabulous resort in Kumarakom features an outdoor pool, spa, sauna and private pools. It is the right destination for people who would like to have an authentic travel experience in Kerala and enjoy its stunning backwaters. The most striking feature of this Kumarakom resort is that it is reachable only over the water. In addition to a unique background, guests can enjoy all the modern comforts of the well furnished rooms during their stay in Coconut Lagoon.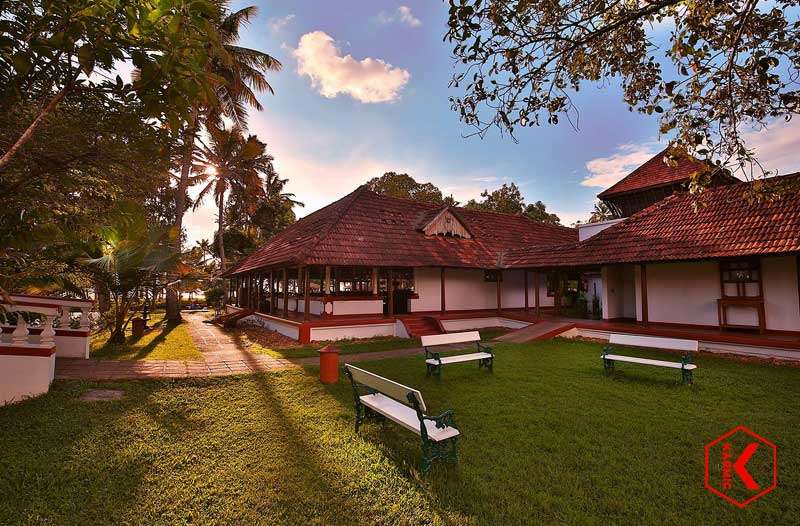 Being a part of the CGH Hotels, this Kerala resort in Kumarakom located on the banks of the astounding Vembanad Lake. Three different types of accommodation are available in Coconut Lagoon. The independent compact cottages, Heritage Bungalows are set along the canals in beautiful lawns. The Heritage Mansions in Coconut Lagoon have an upper storey with special wooden ribs which has an appearance of the sides of a boat. These cottages are slightly larger than the previous type.
Privacy and tranquility are the features of Pool Villas of Coconut Lagoon which has a private lakefront, unique interiors and private pools. Travelers have the choice to select any of the accommodation based on their requirement and budget. Whatever may be your choice, guests can enjoy the most comfortable and luxurious accommodation during their Kumarakom holidays in Coconut Lagoon.
The traditionally decorated but well equipped rooms of Coconut Lagoon provide all the facilities to make the stay of their guests comfortable and convenient. Each room of this eco-friendly resort has facilities like a television, telephone, mini bar and coffee/tea making facility. Private safes and ironing facilities are also provided by the resort for their guests. Bathrooms are certainly a catching feature of Coconut Lagoon that offers you the chance to take shower in complete privacy under the beautiful sky.
If you are seafood lover, you can enjoy the most exotic seafood varieties from the restaurants of this Kumarakom resort. In addition to the seafood specialties, the Breezes and Barbecues serve authentic Kerala delicacies and mouthwatering international cuisines to provide a unique culinary experience for their guests and visitors. Visiting the Ayurvedic spa and sauna can be a rejuvenating experience for the travelers.
Located nearly 75 kilometers away from Cochin International Airport, travelers will not find it difficult to reach this resort. With unique ambience, Coconut Lagoon is beautiful to stay during your Kerala holidays. The tour desk of the resort organizes outstanding sightseeing trips to make their guests vacation pleasurable. Call the resort today and book your accommodation with Coconut Lagoon in advance to make the best of your vacation.
Check In : 14.00
Check Out : 11.00

Book Kumarakom Taxi Online to Coconut Lagoon.
Hire a taxi to Kumarakom from Kochi / Cochin. Get Kumarakom Taxi to Coconut Lagoon From Cochin International Airport.
Kochi / Cochin Airport to Coconut Lagoon Taxi Cab Rental Service.
Wondering how to travel from Kochi / Cochin to Coconut Lagoon ? KSU.in provides the best Kerala Taxi Car Rental solution from Kochi to Kumarakom. Call 098479 39977 now.
Need Kochi Airport Transfers ? We have a dedicated team who are able to assist with all your Cochin / Kochi International Airport transfers requirements from Kumarakom.